An RV WiFi hotspot is the most popular way to source RV Internet on the road. RVers increasingly need RV internet to work, school, access information, or stay entertained while traveling. While it is not a perfect RV Internet solution, most areas have cell network data signals, and RV WiFi hotspots don't require a wired connection. Any hotspot can be used in an RV, and there are several options for RV WiFi hotspot devices and networks.
The best RV Internet option is unique to each RVer and their specific needs. Five RV nomads who have already researched and experimented with RV WiFi internet options share the setup they use to stay connected while they travel.
Each method has pros and cons, but these RVers' experiences will help you better understand how to use mobile hotspots for RV Internet.
A version of this article originally appeared in the May/June 2021 issue of Rootless Living magazine.
Networks: AT&T, Verizon, T-Mobile
RV Internet Tools: Mobile Hotspot, 4G/LTE Router, SIM card, mobile phone hotspots
Over the past two years, we have learned quite a bit about how to best stay connected while on the road, and I have personally spent over a hundred hours, researching, installing, testing, and reconfiguring different options. The easiest option for us was to increase our data plan and diversify our wireless carriers.
After our first month on the road, we increased our data plan to 30GB per phone. We also tried to save TV binge-watching (which can zap your data in the blink of an eye!) for the end of the month. 
In addition to just plain not having enough data, we also had the problem of having unreliable service. Although AT&T boasts some of the best LTE speeds nationwide, it really comes up short in rural areas. We often found ourselves in remote areas with little or no service while others had 2-3 bars with Verizon and T-Mobile.
To get an even better connection once we started working on the road, we purchased a 4G/LTE Router and a SIM card/wireless plan from an alternative carrier to get an even better connection once we started working on the road. 4G/LTE routers work much like the hotspot on your cell phone. 
Using a SIM card and cellular data plan, 4G/LTE routers receive a cellular signal from a nearby tower and allow connection for an almost unlimited number of devices to it. Once configured properly, it will feel much like using your home WiFi router to connect to the internet from a user perspective.
When in doubt, the best way to get RV Internet while traveling is ultimately preparation and planning. We're strategic about when we need to be online and available and put ourselves in an area where we know the cell service is reliable. I also don't mind visiting a local café where I can tap into their free WiFi and enjoy a delicious latte!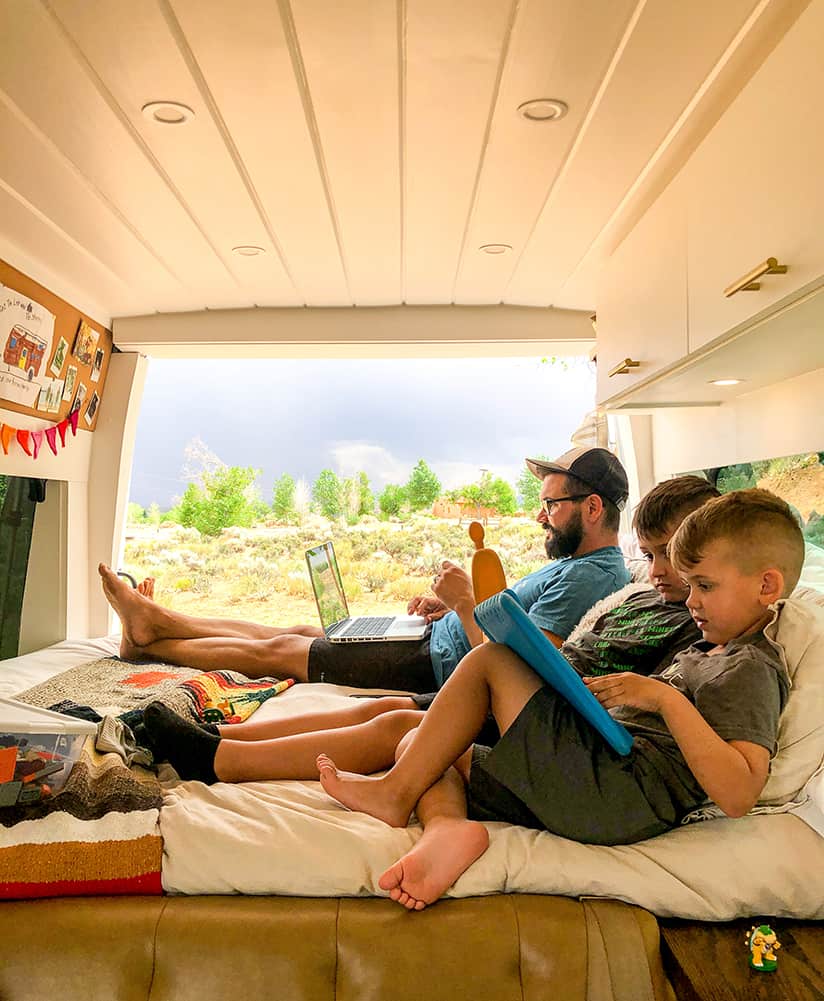 Networks: T-Mobile, Verizon
RV Internet Tools: Mobile Hotspot, mobile phone hotspots, weBoost antenna, AllStays app, Campendium app
We are a family of four traveling in our Grand Design Solitude 41′ Fifth Wheel. My husband works full-time from the road. His work requires a secure Internet connection daily for e-commerce business management. In addition to his work, as a family, we use the RV Internet for various schooling lessons and entertainment. 
Having two different cell phone providers gives us great cell coverage on the road. We have T-Mobile and Verizon, and between the two almost always have cell service. 
We currently use a Verizon mobile RV WiFi hotspot for RV Internet service. It's an unlimited prepaid plan. We also use a weBoost antenna system to get better data and cell reception.
I'd say about 90% of the time, we have the RV Internet service we need. Occasionally, even on an "unlimited" plan, we have been throttled back for using up too much data. And, of course, in remote locations – like national parks – we know not to expect good coverage and plan those trips for times we can be off-grid.
We've thought about getting a standard Verizon plan instead of a prepaid plan to get top prioritization of our high-speed data, but for now, the cost outweighs the benefit. This change would also limit our usage data instead of being unlimited.
We often use the app AllStays to check for service coverage. Campers will leave feedback about service strength. Another good resource is the Campendium website. These apps list service strengths by the provider.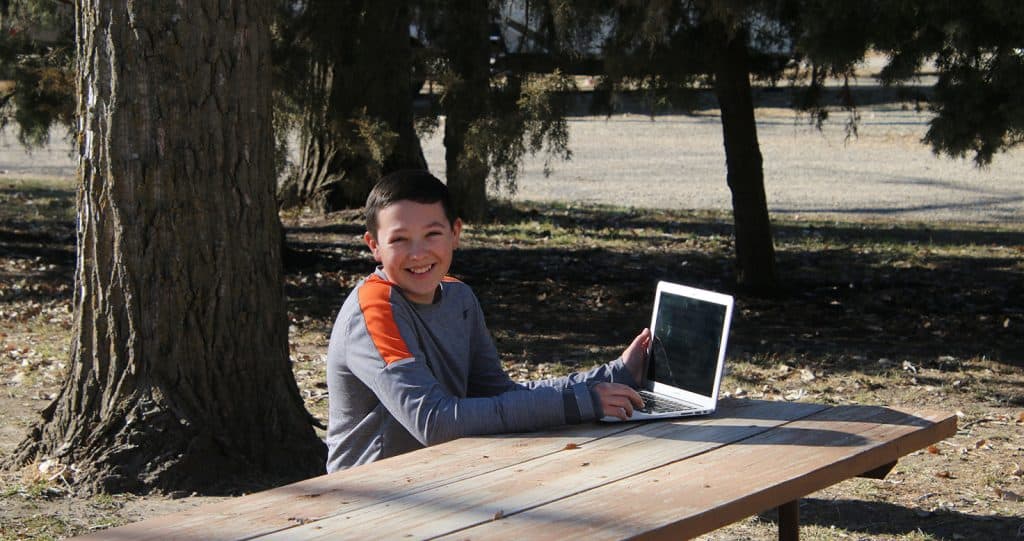 Networks: AT&T, Verizon
RV Internet Tools: MiFi hotspot, mobile phone hotspots, Cell signal booster, Boondocking review websites
For our family of four, access to RV Internet is vital. My husband Charlie works part-time as an electrical engineer, and I need a solid connection for my freelance writing gigs, social media, and looking up lessons for roadschooling to teach our two kids.
Charlie's work provided a laptop, a cell phone, and a MiFi device. Since the MiFi and his cell have separate plans and data, he can switch from one to the other to get the most usage. Charlie has AT&T, and I have Verizon. That gives us a better chance of finding service with two different networks.
We also have a boost that we rarely use since it zaps our solar panel power. If we plug in at a campground, then we use it. 
We sometimes look at the cell coverage map online or read reviews on boondock sites for input. Mostly, we've learned to stick closer to towns to ensure we have service. The middle of nowhere places is gorgeous – but not ideal for what we need for work.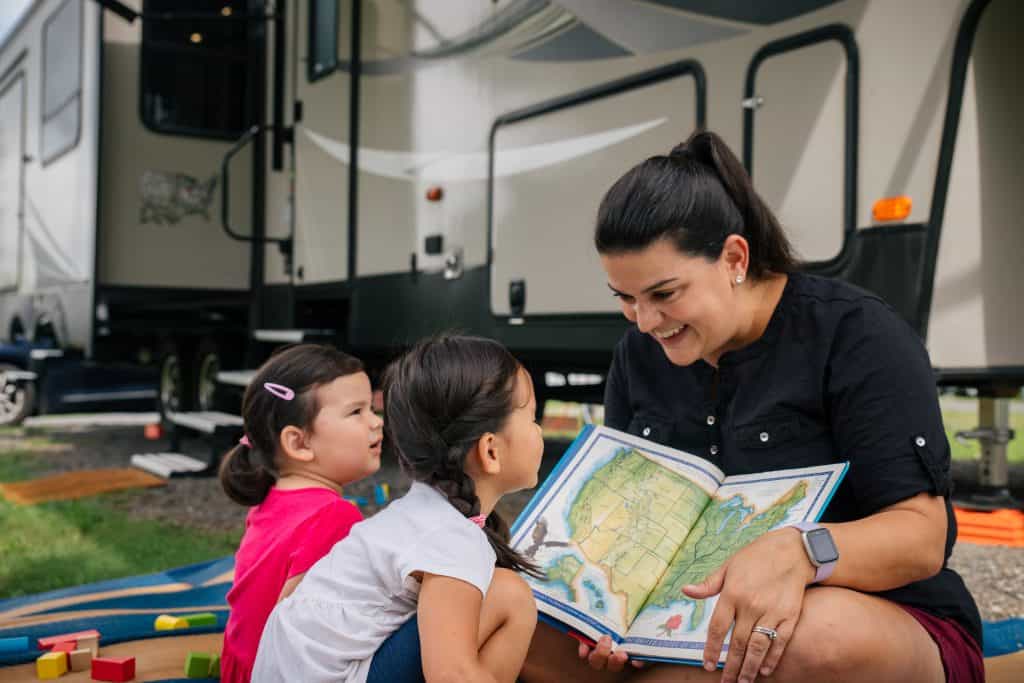 My hubby and I travel with our three 5-and-under kids and my mom. My husband works full-time as a global project manager (which requires daily video chats), and I'm a freelance travel writer. Also, my mom needs access to the RV Internet for day-to-day needs, and my kids want to be able to stream all the preschool shows. 
We have a standard AT&T cell phone plan with an RV WiFi hotspot strictly reserved for my husband's work use. We use an old phone for that plan since we don't use it as an actual phone.
In addition, we all have (smaller) RV WiFi hotspots on our personal phones. That, plus a King LTE/Cell Booster, has been doing well these last couple of months. We've stayed at campgrounds with WiFi, but we've never found one strong enough to support all-day video conference calls.  
Before traveling to a specific location, I always call the office or the ranger where we are staying to ask about cell service. We have Verizon and AT&T, so we can usually find out what it is like from a local.
Networks: T-Mobile, Verizon, Sprint
RV Internet Tools: RV WiFi Hotspot, MoFi router, mobile phone hotspots
Our primary need for a consistent RV Internet connection is work. I work as a nurse health coach for heart failure patients over the phone; however, the calls are executed through the computer and require an Internet signal. 
If we don't have a consistent signal, I can't work, which means it's not an option for us. In addition, our Internet needs aren't unlike many "regular" families. We do have some online programs that support our homeschooling, but otherwise, it's used for regular stuff like streaming music, tv, kids' tablets, and planning our next moves.
The key to our success is options. Our RV Internet "situation" has evolved and will continue to change as we find better solutions. 
Our main shared option is a mobile RV WiFi hotspot T-Mobile connection through OTR Mobile. We run this signal through our MoFi router and can utilize an external antenna if the signal is too weak. The router can connect as many devices as needed with a decent connection. 
Secondarily, we have our phone plans which can also be used as hotspots for work when the router isn't sufficient. My husband Justin has an unlimited Verizon plan through Visible, which is an incredible value.
I have been with Sprint, but we are currently evaluating other options since Sprint has merged with T-Mobile, which we already have. We prefer three different carrier options to cover as many bases as possible. 
We've been able to make this work for our needs, but only with proper planning and research on the areas we are traveling. I'd be lying if I said it was perfect, but we also understand there just aren't cell towers littering the rural landscape of our country. Starlink satellite service certainly sounds attractive right now!
RV Internet Options Using an RV WiFi Hotspot
There is no singular, right combination of RV Internet tools. However, as you can read from these experiences, RVers who depend on a strong signal to work and live use multiple RV WiFi hotspots, cell phone plans, and cell boosters. They also need to research and plan to choose camping locations with data signals for RV Internet.
RV Internet is just one step to beginning working and living on the road. If you want to learn more about full-time RVing and nomadic lifestyles, subscribe to Rootless Living. Every issue is full of guides and first-hand experiences to teach you how to live, work, and travel. Also check out our sister RV magazine for even more helpful articles and tips.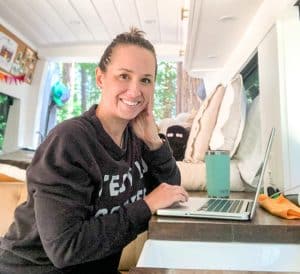 Alexis Nascimento (@neversaysomeday) compiled the print version of this story in the May/June 2021 issue of Rootless Living magazine.