Cross-country travel nursing jobs are an amazing way to make more money and see the country. However, travel nurse housing can be expensive and challenging to find.
Some clever healthcare professionals solved the travel nurse housing problem by moving into an RV or a van.
Nomad travel nurse Brandon Donnie (@simplicity.ventures) thinks RV travel nursing is ideal: "I literally get paid to travel the country, save lives, and take my home and family with me. The freedom this lifestyle has given us and the humbling experiences we have had along the way has truly been a dream come true."
Five nomad travel nurses share why travel nursing with an RV is the best way to get the most from your job and travel. These nurses will convince you to leap into RV or van life too.
You can choose a travel nurse contract over a staff position if you are an RN.
"A travel nurse is essentially a contracted nurse who assists hospitals all over the nation when they are low on staffing," says Lindsey Graham (@LindseyandDannyVanlife). Her husband, Danny, has been a travel nurse for five years. "The contracts are generally 13 weeks long and can be extended out a maximum of a year."
Travel nursing appeals to those who love travel, adventure, new experiences, or seek temporary opportunities to increase their salaries.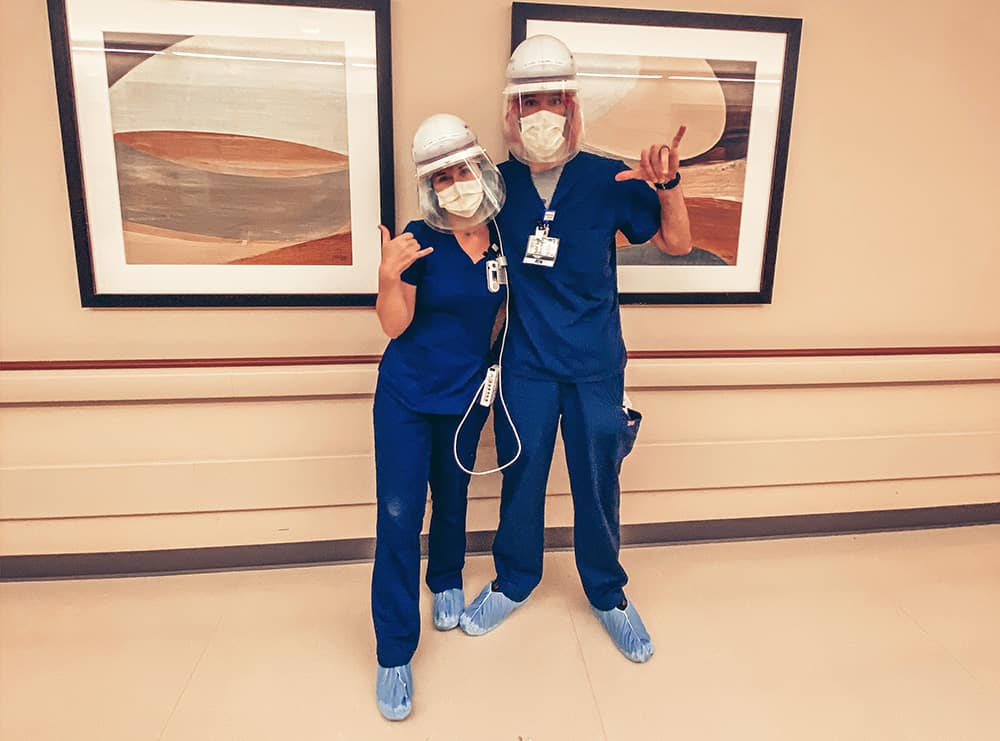 How to Find a Travel Nursing Job
Giving up a comfortable permanent home can be intimidating, but it's easy to find a travel nursing job.
"There are numerous Travel Nurse Agencies that can assist you in your endeavors to find these temporary assignments and they act as a middleman to draw up the contracts, negotiate pay on your behalf, and some even provide benefits," advises Lindsey Graham.
There are many travel nurse agencies, but she recommends checking out American Mobile Nursing (AMN), Nurse Choice, and American Traveler.
Why an RV or Van is the Best Choice For Travel Nurse Housing
Travel nurses receive a housing stipend with their compensation. Short-term stay apartments are the most popular travel nurse housing option, but some travel nurses prefer to live in an RV or van.
Five experienced RV travel nurses share why they chose RV or van life for their travel nurse housing:
Make and Save More Money As a Travel Nurse
Income boosts are a significant travel nursing perk.
For example, Chase & Lindsay doubled their income and paid off their remaining $60,000 student loan debt.
Lindsey Graham agrees that in her experience, her husband Danny makes way more pay as a travel nurse vs. his previous staff nurse position.
However, travel nurse housing can cut into that extra revenue. Month-to-month rent, required for three-month travel nurse contracts, is often much more expensive than annual leases and requires multiple non-refundable deposits.
"We began to notice year after year we were getting killed financially on travel nurse housing," remembers Lindsey Graham.
Travel nurse companies provide travel nurse housing services, but the requirement to opt out of the tax-free living stipend makes this option a drawback.
Instead, it's possible to pocket the housing stipend and save significantly on travel nurse housing costs by staying in less expensive RV parks. "We get to save and invest the housing stipends, minus rent and utilities," says travel nurse Brandon Donnie.
Extra pay plus savings on travel nurse housing results in big profits for RV travel nurses.
RV Travel Nurses Maximize Time Off
Many travel nurses enjoy exploring their temporary homes on days off. Living in a van enables travel nurse Megan Ty (@we.the.wanderers) to take local trips when she's not working.
"As nurses, we only work three days a week, which means our four days off are spent exploring the area we are in," she explains. "We used to spend so much time packing and finding lodging for our mini getaways during the week. Now we have everything we need in our van, so we can just take off after work and pull into a free campsite."
"Travel nursing allows both financial freedom and the freedom to take time off traveling around the U.S. and abroad," says Chase and Lindsay. The travel nurse couple now only works half the year and spends time between contracts traveling. So far, they have visited 13 countries.
RV Parks Are A Pet-Friendly Travel Nurse Housing Option
Four-legged family members are part of many travel nurses' families. However, finding short-term travel nurse housing that is also pet-friendly can be a challenge. Fortunately, almost all RV parks allow dogs and cats.
RV life provides a safe environment for Chase and Lindsey's cat while they're at work.
Travel nurse Abby Fiore (@abbylerioux) says her dogs love living in the RV park. "With two little dogs along for the ride, we invested in an outdoor gate that we situate around the front door so they can come in and out as they please. This has allowed them to have an easy transition from a big yard to tiny living."
Travel Nurses Love Relaxing At Their Campsite
While living in an RV or van may not seem initially appealing, these travel nurses enjoy their travel nurse housing when they return from a long work day.
Chase and Lindsey prefer travel nurse housing at RV resorts with full hookups (utilities). "It's reassuring to know that we have everything we need," Lindsey explains. "Everywhere we've stayed has also had fitness facilities as well as a swimming pool and hot tub for relaxing on days off."
Abby Fiore and her wife have fully embraced living in the outdoors. "The last two years in our RV have sparked a love for the open road and nature that we didn't realize we had." As night shift nurses, campsites that allow them to soak in the sun are their favorites!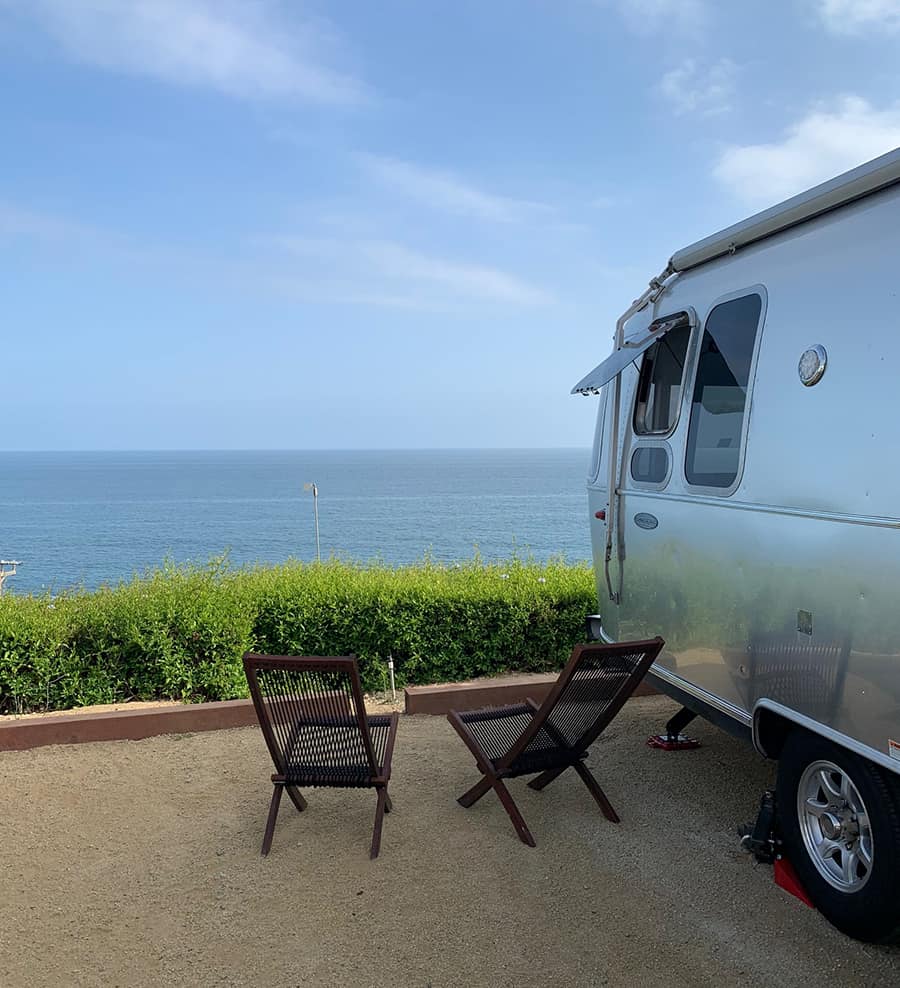 Eliminate The Search For Travel Nurse Housing
Searching for a new home on short notice every few months is inconvenient, expensive, and cuts into valuable time off. RV and van travel nurses simply hop behind the wheel and drive to their next assignment.
Brandon doesn't miss the travel nurse housing process. "We don't ever have to look for housing, never pay ridiculous rent prices or utilities, and our home is always with us!"
Having your bed and belongings in every assignment location is also convenient. "Life between contracts is no longer stressful because we are home no matter where we go," says Lindsey. "We no longer live out of boxes."
Travel Nurses Get Paid to Travel the Country
Exploring the country is one of the best parts of travel nursing. There are many exciting travel nurse destinations, whether you want to check out a new state, become immersed in a city, or try living on a mountain, beach, or desert.
Meg and Ty hope to use an assignment to check a major item off their bucket list. "Alaska is very high on our list for a travel assignment…Our goal is to make our Alaska dream come true next summer!"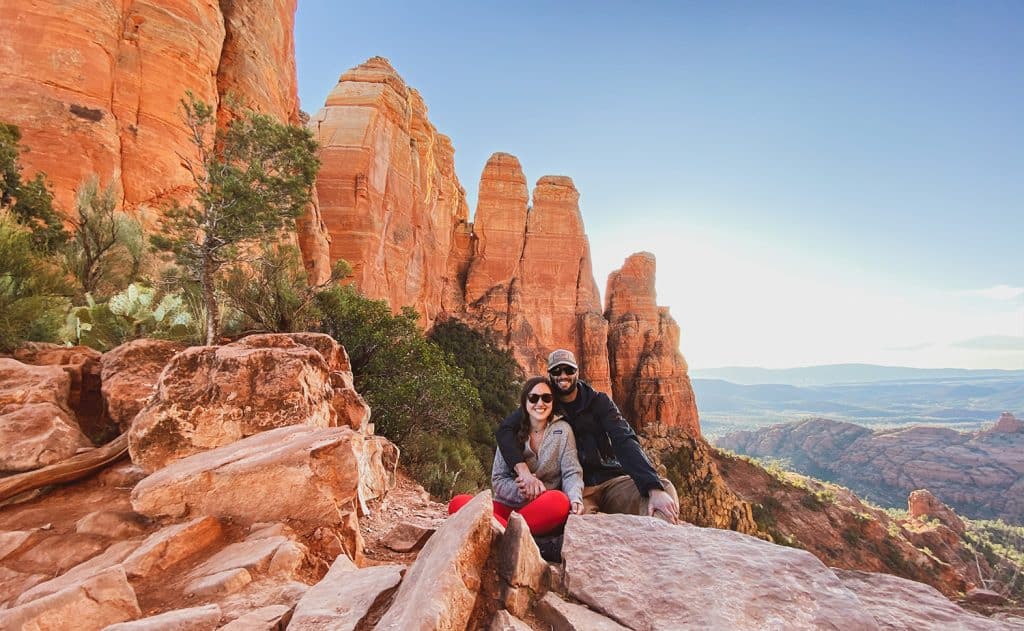 Travel Nursing With an RV
Are you convinced to try van or RV travel nursing? 
"Our advice would be to give this lifestyle a test drive (no pun intended)," recommend Meg and Ty. "There are several companies that allow you to rent vans and RVs for extended periods of time. If you are considering whether this is a good choice for you, renting a home on wheels for a week will give you the insight to make your decision."
Don't let inexperience hold you back. "There is a whole world out there to explore, and while the fear of the unknown is real, the world that will be discovered makes it worthwhile," says Abby Fiore. "If two city-raised women who never knew what an RV was can do it, then I believe anyone can!"
An RV is the best travel nurse housing option for Brandon Donnie. "Take the leap! If this is your dream, there is no time like the present. The rewards outweigh the risks and pay off bountifully!"
Learn More From Our RV Travel Nursing Experts
Are you a travel nurse curious about RV life? Subscribe to Rootless Living to learn more about work, travel, and nomadic living. Read the full articles from our RV travel nursing experts:
Featured in Rootless Living's January/February 2021 issue
Follow on Instagram: @WereOutNAbout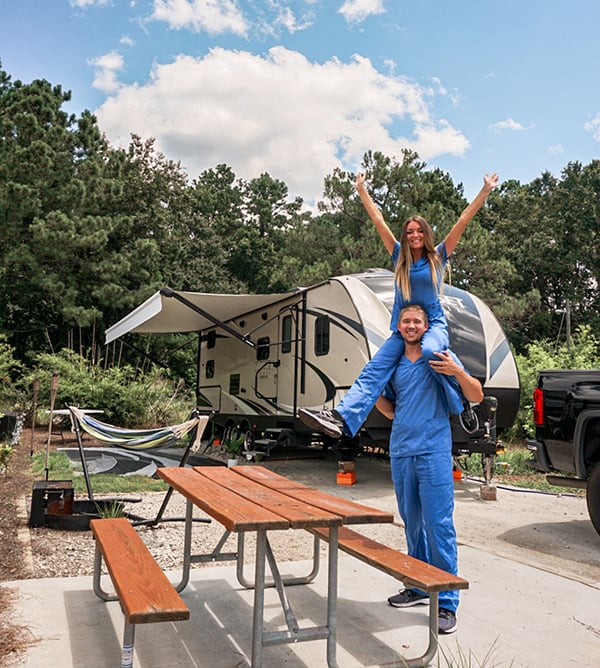 Featured in Rootless Living's January/February 2021 issue
Follow on Instagram @we.the.wanderers