RV travel is a life-changing experience for kids and the whole family. However, creating a designated space for each family member to sleep, relax, and live can be challenging. From a DIY RV bunk bed to a whimsical RV kids room, these six families made the most of their tiny homes on wheels. Any kid would envy these fun, beautiful, and functional RV bunk room remodels. 
This full-time RV family upgraded to a Keystone Raptor fifth-wheel toy hauler to make more space for their two growing girls. Bradley & Irene Lincoln's stunning RV renovation included a complete RV bunk room remodel.
The couple removed a closet, redid the floors, and built RV bunk beds and storage spaces to maximize the upstairs room. Pastel tones, shiplap, and industrial light fixtures give the area a cozy feel.
Irene kept her designs simple, budget-friendly, and drawn from nature. Her goal was to create an open and spacious RV for her family. The couple achieved that objective with this RV kids room.
Travis and Meredith are professional RV renovators. As parents of four boys, they are experts in building a safe and comfortable RV kids room.
The couple often adds an RV bunk bed ladder into the RV kids room and bunkhouse. "Travis has 11 years of welding experience as a fabricator, so he is able to custom build beautiful ladders and rails that not only provide the bunk with extra support but give kids the ability to sleep in their beds without the fear of rolling off," says Meredith.
The couple says the key is to build the rails low enough for kids to climb over easily but high enough to create an extra barrier while they sleep. These rails make an RV bunk bed that is both beautiful and functional.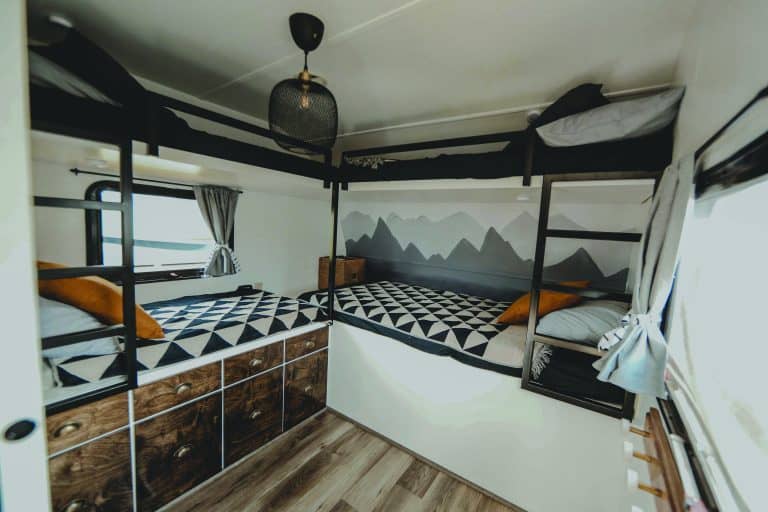 The Gossett family wanted a home they could take with them while Daniel moved around the country for his baseball career. Painting the interior of this Grand Design Solitude fifth-wheel brightened the space and made it their own.
The couple converted the second bedroom into an RV nursery for their young daughter. The couple removed the couch and replaced it with a full-sized crib. The littlest Gossett has plenty of space for her play table, books, and stuffed animals. Little touches like a pink curtain and garland make this the perfect RV kids room for their daughter to grow up on the road.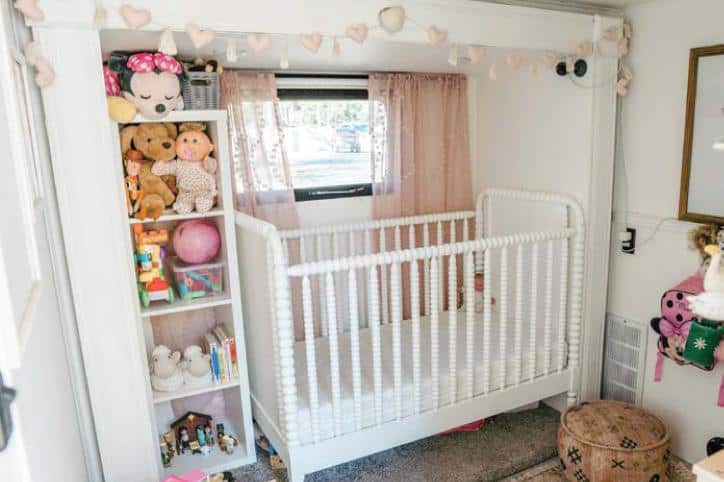 The Lahrs family downsized from a 4,000-square foot house to a 400-square-foot Heartland Torque toy hauler. The family lived and traveled in the fifth wheel for four years. When the eldest child left for college, the family decided it was the perfect time to customize the space.
Due to the second bedroom's slide, Luke and Melissa had to get creative to build the RV bunk bed. They split the bottom slide bed into two twin-length mattresses. Then they built a third DIY RV bunk bed above the original sleeping space. By cutting memory foam mattresses, they were able to achieve the perfect custom size.
This new RV bunk bed gave the family more space to store the kids' games, books, clothes, and belongings. The rest of the RV contains beautiful multi-use family spaces for everyone to live, work, and spend time together.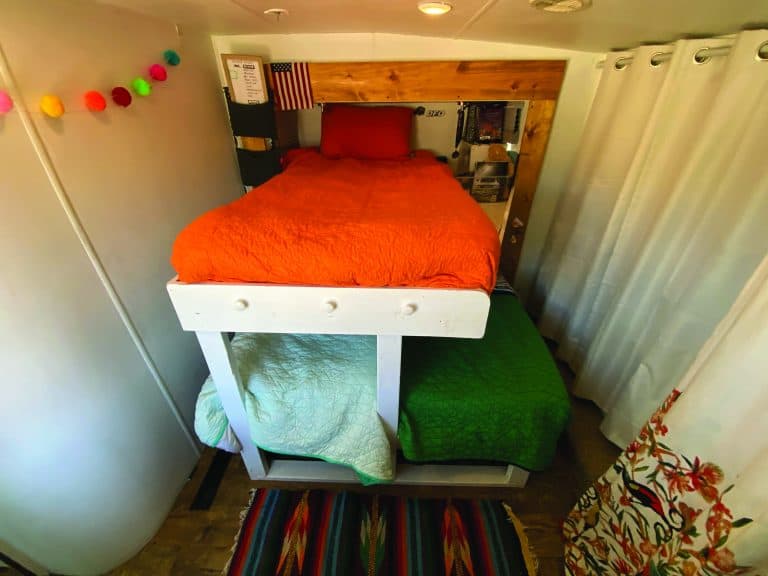 Mike and Katie Gerkin sourced inspiration from Instagram and Pinterest for their RV kids room. "I love natural wood and wanted to incorporate as much as possible without adding too much weight. Having two young kids, my husband and I were both worried about using white paint on the walls, so we went with grey. My style is to keep things simple and clean with some added textures."
The birch-patterned wallpaper behind the RV bunk bed brought the feeling of nature indoors and added pop to the Gerkin's simple design. The RV bunk bed is perfectly sized for their two traveling kids. The couple created a beautiful space for their family to read and play in their Palamino Sabre fifth wheel.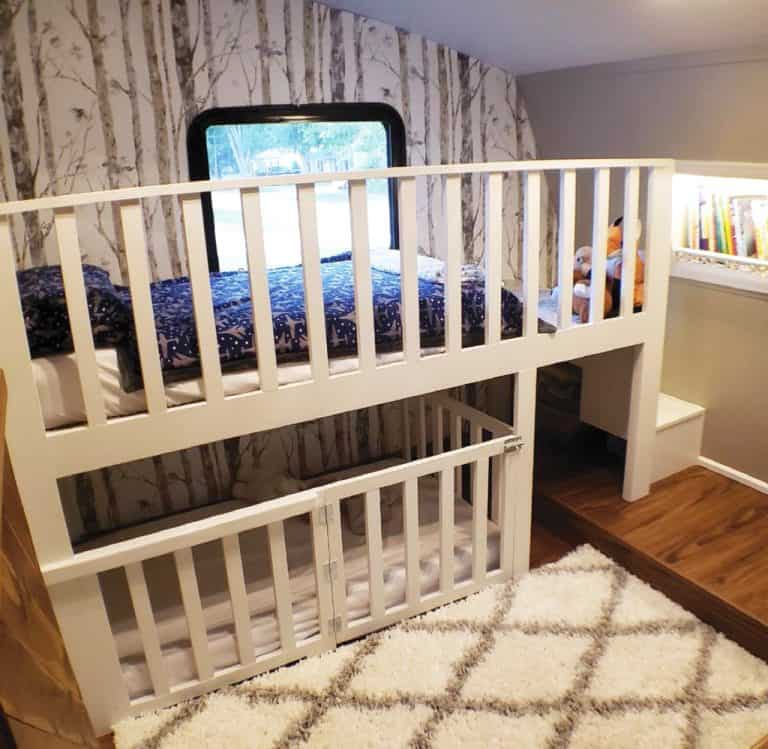 Adding a Baby Nursery into an RV Airstream by @Our_RaeLife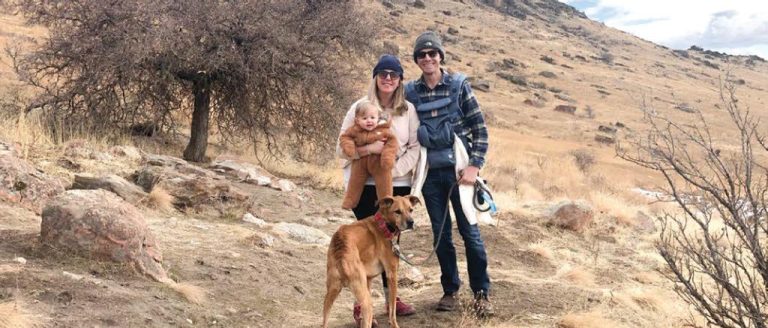 Jerry and Jaime Rae were already preparing to move full-time into an airstream when they discovered that Jamie was expecting. They had to find a way to build a mini baby nursery inside an under 200-square-foot RV.
Jerry utilized just 18 inches of space next to the bed to construct a safe sleeping platform for the baby's bassinet. After she outgrew the space, the couple added a small crib to their L-shaped lounge.
They can maintain their nursery nook by keeping baby items to a minimum. The Rae's found they just needed a good sound machine, a few outfits, and toys to comfortably raise their baby while traveling.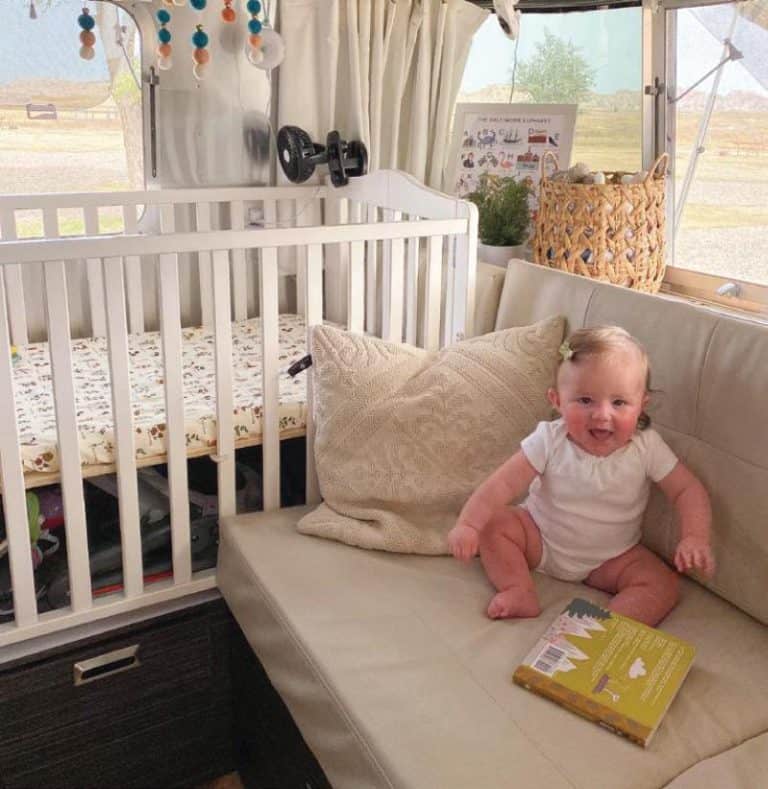 Amy & Jeff Rutherford and their two daughters lived through the chaos of renovating a used RV while they were living inside it. They converted the bedroom and queen bed into a DIY RV bunk bed for their kids.
After adding some colorful paint, the kids made the space their own. A long bench with open shelving adds plenty of storage for games, toys, books, and crafts. The girls have plenty of space to spread out, roadschool, and play.
Looking For More RV Kids Room Ideas or RV Bunk Bed DIYs?
We feature RV renovations in every issue of Rootless Living magazine. As part of our mission to help families live, work, and explore on the road, we share full-time RV families' stories. Subscribe to learn how to make money, roadschool, and enjoy the experience of traveling with your kids. Also check out our sister RV magazine for even more helpful articles and tips.