You may have heard of workamping, seasonal or temporary jobs that include a campsite as part of your compensation. Work camping jobs are a great way to make money while RV traveling. Workampers can explore different areas of the country while they work.
When you first think of workamping, you probably imagine a campground hosting job. However, there are many other types of opportunities for workampers the utilize a wide range of skills. This article shares 11 types of work camping jobs to help you earn money while you travel. Maybe one of these workamping opportunities is right for you!
Types of Work Camping Jobs
Camp host jobs are probably the most popular workamping gig. Camp hosts can work in public campgrounds, such as those managed by the National Park Service, US Forest Service, Bureau of Land Management, or state parks. Other camp host jobs are in private RV parks. 
Hours and compensation for these work camping jobs can vary. Some campground host jobs offer only a campsite for part-time hours of work each week. Others provide the free campsite and pay for more hours and work.
Camp host job duties will differ with each campground. Typical tasks include registering and assisting campers, cleaning sites, maintenance, cleaning bathrooms, or working at the camp store.
Diana Ditkof (@beerving_america) says her favorite camp host job was at a state park in California. She says, "A typical day for us was setting out incoming camper tags, cleaning the yurts for the next guests, being around to sell firewood, and answering questions about the local area…The job averaged 20-25 hours per week, combined between the two of us, of light work…The park itself was a dream to live in for a pair of Midwesterners and their pup: surrounded by redwood trees, Douglas firs, hiking trails, and a pleasant creek fed mostly by underground spring water.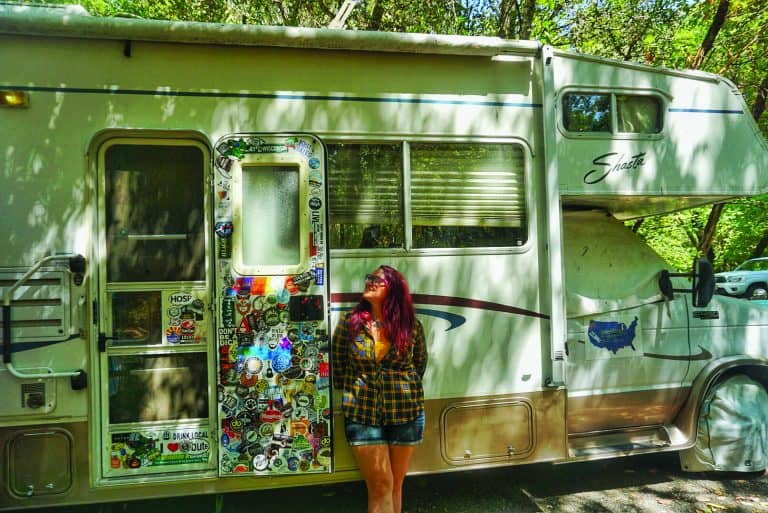 There are more workamping jobs in the hospitality industry beyond campgrounds. Resorts and hotels, especially those in National Parks, rural locations, or areas with seasonal tourism, sometimes offer free campsites as a compensation option for temporary employees. These work camping jobs are similar to camp hosts. Common tasks include housekeeping, maintenance, waitstaff, or customer service.
One of Jason Betzing's (@FullTimeFire) favorite work camping jobs was at a hot springs resort in New Mexico. "It was an amazing place where a 3-month gig turned into 8 months. My wife worked 20 hours a week in housekeeping in return for the private, full hookup spot on the Rio Grande. I worked for pay in guest services. We had access to all of the amenities, including unlimited soaks. Living in the desert changed us on many levels, and we loved every minute of it."
Amazon Camperforce is a seasonal program that employs RVers to work at Amazon warehouses during the holiday season. These work camping jobs are typically available from October through December. Compensation for Amazon Camperforce workers includes a free campsite with hookups and hourly wages. Packing and filling orders at the warehouse can be physically demanding.
Josh Fuss (@chasingharley) and his wife worked for Amazon Camperforce in Kentucky and Reno. The work was demanding, but they loved getting to know their fellow workampers: "As we adjusted to a new schedule and the physical nature of the job, we found our stride a few weeks in. Our feet stopped hurting, we got used to night shifts, and built relationships with other work campers. We had an awesome team of work campers, who have become close friends to us. Those friendships have also led to job referrals and connections for other gigs."
National Park Service Jobs
Many RVers love visiting National Parks, so why not work at one? National Park Service sites offer a large range of workamper jobs. Some are volunteer gigs, while others include compensation. Common workamper positions include maintenance, tour guide, guest services, and campground hosting.
Jason Betzing's National Park Service work camping job was 32 hours a week in a maintenance role in exchange for a full-hookup campsite in Natchez, MS. "I worked with maintenance doing a variety of tasks from work orders to hurricane cleanup. As the only volunteers, we essentially had a private site on the mansion grounds. The bayous were amazing; the Spanish moss and magnolias have a special place in our heart."
If you're looking for a short seasonal job, workamping at a holiday sales lot might be right for you. Workampers run pop-up stands that sell seasonal items like pumpkins in October, Christmas trees in November and December, and fireworks in June and July. The compensation may include a campsite at the lot or nearby. Pay will range from the worker to the manager level.
Agriculture is another industry that offers work camping jobs. The season to harvest produce is short, so farms need all hands on deck for a short time period. The work will be physically demanding with long hours, but the jobs are very short term and include pay.
Wineries may offer harvest jobs to workampers, especially those with experience in the industry. The sugar beet harvests in Minnesota, North Dakota, and Montana are a popular sites for workampers.
Outdoor Outfitter Work Camping Jobs
If you want a work camping job close to nature, look into outdoor outfitters. Shops rent kayaks, wetsuits, bikes, inner tubes, and more to equip visitors to explore National Parks and beyond. These shops use workampers to stock shelves, clean, and provide customer service during their peak season. Compensation can include a free campsite, pay, or discounts.
Park Concessionaire Workamper Jobs
The National Park Service doesn't manage many of the services for tourists in National and State Parks. Concessionaires run them. The businesses they operate in parks include hotels, campgrounds, gift shops, and restaurants. Workampers make a significant percentage of concessionaires' staff. You may end up with a job and a free campsite in your favorite National Park.
Stadiums and Event Venue Work Camping Jobs
Concessionaires also run stadiums and need temporary workers to run concessions, tickets, security, and other roles. You may work sporting events, races, rodeos, conventions, or concerts. You can often get a peek at the action while on the job. Stadiums in Arizona seem to be common locations that seeks workampers.
A work camping job you may not have known about is gate guarding. Some businesses, like oil fields in Texas, hire workampers to check people in and manage security at gates. These jobs often request couples so they can trade-off and provide around-the-clock coverage.
While this might be the last job you may expect when you think of workamping, tax preparation companies have a specific season that also requires temporary help.
Josh Fuss shares his experience workamping for Jackson Hewitt in New Mexico. "The job location gave us a place to call home in the southwest for a few months. With a great starting point in Albuquerque, we took advantage of every day off and explored New Mexico as much as we could. Sand dunes, hot springs, slot canyons, exploring little known places in the desert, and getting our first introduction to long term dry camping all showed us why New Mexico is the 'Land of Enchantment.'"
Work Camping Jobs for Singles vs. Couples
You should be aware that some work camping jobs, especially those that only offer a free campsite as compensation and some camp host jobs, favor couples over singles. The reason is they can get more work hours from two people staying at the campsite than a solo workamper.
That does not mean that you cannot find a work camping job for one person! Solo travelers, or one-half of a couple, can be a workamper. All these types of work camping jobs provide opportunities for both singles and couples. The job description will likely mention if they are specifically seeking a workamper couple.
Which Work Camping Job is Right For You?
Did one of these work camping jobs sound like the right fit for your next adventure? The next step is to start applying! Read our article, "How to Find Workamper & RV Work Camping Jobs," for the next steps and websites to search and apply for work camper jobs.
If you want to learn more about workamping, subscribe to Rootless Living Magazine. Every issue features stories, tips, and guides from nomads working from the road. This article features quotes from stories in Rootless Living. You can subscribe to read the full stories from the workampers featured in this article.
Subscribe to Rootless Living
For more content like this, subscribe to our magazine. Digital and print subscriptions are available.