Are you a teacher and love travel? If so, did you know that you can teach online and do both at the same time? Most teachers are limited to traveling during their school vacations. However, if you're interested in full-time travel, there are a number of remote teaching jobs available online that allow you to work from anywhere in the world.
In this article, we will share three stories from teachers who have taken advantage of these opportunities. They will share how they found remote teaching jobs and the day-to-day pros and cons of teaching online. We hope their experiences will inspire you to explore this option for yourself!
Patty Gill: Teaching English Online From an RV
Patty Gill (@gills_on_wheels) pursued teaching English online to fund traveling full-time in an RV with her husband after he retired from the Air Force. A friend had recommended an online teaching job through a company called VIPKID. VIPKID is a platform that connects North American teachers with young Chinese students to teach ESL (English as a second language).
After reading stories in a Facebook group about RV travelers who taught through the company, she was eager to try it. Patty has been teaching English online for over two years, and she loves the flexibility and interactions with the kids. She shares her experience working for the company and how to get started:
Teach English Online With VIPKID
I've had a great experience working with VIPKID. You can earn between $14 and $22 an hour depending on your experience, and you can also receive bonuses and incentives for each class. As a part-time teacher, I make between $400 and $1,000 a month. I teach students between the ages of 4 and 11, and the classes are one-on-one and only 25 minutes long. Fortunately, you do not need to know how to write a lesson plan—this is all done for you.
The question I get asked most when I tell someone I teach English online to kids in China is if I speak Chinese. The answer is no, you do not need to know how to speak Chinese or Mandarin, and most of the kids I teach can already speak some English.
The best part of teaching for VIPKID is that you get to set your own schedule. They are very flexible and do not require you to work a certain number of hours a week. You can work mornings or nights, weekdays or weekends. I teach every Tuesday, Thursday, and Friday morning, and I am slowly adding more students, hours, and days so that I will be full-time once we hit the road.
I recently took off two weeks of work for the holidays, and all my students booked classes with me as soon as I started back up. Another great part is you can teach from anywhere—your home, hotel room, car, or RV. 
Requirements For Online English Teaching Jobs
Requirements to Teach for VIPKID
To teach online for VIPKID, you need to be from the USA or Canada, have a bachelor's degree and have experience working with kids.
You will also need a reliable computer, laptop, or tablet with high-speed internet. They prefer you are hardwired into the internet, but I have always used Wi-Fi and have had no issues. I would suggest if you are full-time in your RV to get your own high-speed internet and not rely on the campground internet.
Some recommendations to make your classroom better include using a webcam, a headset with a microphone, and having good lighting. All of these can be found easily, and you don't need to spend a lot of money to get started. I bought all my accessories for less than $50.
How to Teach English Online
To start working with VIPKID, make an account, apply on their website vipkid.com and use a current teacher's referral code (you can use Patty's code: 'PATRI0422'). All teachers receive a small, one-time incentive for referrals once the person who used their referral code teaches their first class.
Your referral teacher will become your mentor and help you through the application process. If you make it past the application process, you will then need to record a teaching demo video. It is very easy, and you will do it right on their website. 
Next, you must teach and pass a mock class. This was the hardest part for me—it took me three times to pass it. There are current teachers watching you teach a class, and it takes a few times to get it just right. Once you pass these three stages, you will be sent your contract to sign with your terms and pay. I was so afraid for my first class, but after I taught a few lessons, it became easy and fun. VIPKID even offers free courses and certifications for their teachers. 
A Day in the Life of an Online Teacher
A normal teaching day for me starts very early in the morning. Depending on the time of year, I sometimes start teaching at 3 a.m. I usually wake up around 2:30 A.M., which may not be for everyone, but you can teach in the evenings if you prefer.
Getting dressed for the job includes keeping on my pajamas and putting on a solid color t-shirt or sweatshirt. I put on a tiny bit of make-up and brush my hair or put it in a bun. I usually teach 5-8 classes each morning, with about 5 minutes between each class. 
To set up for each class, I will look over the lessons the day before to see what I will need to teach. It usually takes me about 20–30 minutes to make sure I have all my props set up for the next morning's class. Then I grab my coffee, sit in my chair, and wait for the class to start.
I'll teach online for 25 minutes, making sure to complete all the teaching slides, and once the classes are complete, I have 12 hours to provide feedback to the students. This is a short review to let the parents and VIPKID know how the student is doing in class. I am done around 7 a.m. and have the rest of the day to explore, hike, or go sightseeing.
As a military spouse, I have worked a lot of jobs while moving every couple of years. This is one of the best work-from-home/RV opportunities I have come across. It is by far one of the best jobs I have ever had. It is very rewarding, and it is a job where I feel I am making a difference. I'm not getting rich, but I will make enough money to help supplement our income so we can hit the road full-time.
I have worked for VIPKID for two years and just love the kids I teach, the flexibility, and the ability to work from anywhere. Teaching English online with VIPKID is a great job to have if you want to travel and have a steady income, all while loving what you do.
Amy Rekart on Finding Remote Teaching Jobs
Before pursuing the full-time RV lifestyle with her husband and pets, Amy Rekart (@carpediemcampers) was a Physical Education and Health teacher at a Montessori school. She loved her job but gave it up to pursue travel.
For the first few years, the couple supported their travel with Amy's husband's job and income from their rental. However, after her husband was laid off and coronavirus lockdowns began, Amy started exploring the possibility of teaching online. She shares the story of her job search and experience with remote teaching jobs.
How to Find Remote Teaching Jobs
In June 2020, I began my job search. I was hoping this would be perfect timing with the way Covid had changed the teaching world. I revised my rusty resume, created a profile on Indeed.com, and started applying to postings for online Physical Education and Health. 
After a couple of months of applying and a few interviews for different companies, I was hired! I was back to teaching Physical Education and Health but in an entirely new capacity — and fully remote, too! This meant we could continue our nomadic lifestyle with a sustainable income.
I am grateful that my teaching job came full circle. I now have a job I love, working with kids in a new, challenging, and fulfilling way while continuing to live the digital nomad lifestyle. 
So, how does teaching online P.E. actually work? With my company (I'm still getting used to working for a business rather than a school district), a curriculum writing team creates the courses, and the teacher is the guide. We check for understanding and teach students using various ways of communication, including email, phone, and virtual meetings. We also manage other various weekly business tasks. 
The company I work for services individual homeschooled students who enroll in our online schools, entire school districts, and individual schools across America and some internationally. 
Degrees and Certifications For Online Teachers
If you are curious about how teacher certification works to teach online, I was too! I am a certified teacher in Missouri. Was I allowed to teach students who lived in states where I was not certified? Was I required to live in the same state as the students I was teaching? 
Yes, at least for my job, you must be certified in the state where your students live, so all of my students live in Missouri. Your own living arrangements will depend on the individual company. Some require you to live in the same state as your students. Luckily, mine did not. 
Most online companies that offer their services to schools and districts within the United States will require a teaching certificate. The process to obtain that certification varies by state. I have a bachelor's degree and a master's degree in Kinesiology and Physical Education and passed the P.E. and Health certification tests back in college. The process in your state may be different, so I suggest researching specifics.
Websites to Find Online Teaching Jobs
If you want to teach online but have little to no experience, there are still options! 
There are online companies such as VIPKID where you teach kids from around the world with a flexible schedule — no certification required. There are also teaching-related websites where you can create lessons and artifacts for other teachers to purchase, such as Teacherspayteachers.com. Or, you can create your own course on a website like Teachable.com.
I also suggest creating a profile on Indeed.com and searching "online teaching jobs." Use filters as necessary according to your content area or experience. Be open to various teacher-related options that pop up.
Websites For Remote Teaching Jobs
Sasha Bezer on Multiple Options to Teach Online
Sasha Bezer (@stonyboot) has a lifelong love of travel, and she and her husband, Scott, were no longer content with vacations to fulfill their wanderlust. They decided to save and plan to travel full-time for several years. It took them a long time to budget and prepare for their adventure. Sasha decided to teach online to supplement their income while they traveled.
Managing Multiple Online Teaching Jobs
I have always enjoyed teaching English privately and used to run an English-speaking club in Russia. When I came to the U.S., I found a couple of students as a side job, but I've never been a full-time teacher. With our new lifestyle, I was able to focus on my teaching and pick up a few more students. 
I also started working for VIPKid, which is a Chinese online teaching platform that focuses on teaching English online to Chinese children. I absolutely loved working with the kids; however, the schedule was a little hard.
Since I was working with Chinese time zones, most of my lessons would start around 4 to 6 A.M. I also needed a stable internet connection, which can be challenging while we are on the move. Now I work fewer hours for VIPKid and focus on my own teaching.
Setting Up a Camper RV to Teach Online
Since we decided to travel full-time in a truck camper, we had to make it more suitable for us to live, work, and teach online in. To make a comfortable working space, we completely redesigned the dinette area and turned it into an office for two people.
We have a desk facing out the large side window and a pull-out teak table in the center that we use for paperwork and eating. The side-mounted desk gives us a place to keep our laptops set up for extended periods while we are stationary. Now we can keep our computers going and have dinner without moving anything!
We use computers and other devices a lot, and we needed to have more power than our rig previously provided. Scott added a 2000-watt and 1000-watt inverter to power everything we need: laptops, cameras, phones, and other equipment. He also installed a custom set of LiFePO4 Lithium batteries. Most of our power comes from a DC-DC alternator charging system with 600 AH of capacity, which provides plenty of electricity to keep us working day and night.
Two other important additions to our truck camper were an external cell booster to help with low signal areas, and a MoFi 4500 Hotspot paired with an unlimited cellular data plan to provide the bulk of our data needs. Finally, we also installed a Honda 2200i generator and built a ventilation system that allows us to run it while in the generator compartment. The benefit to this setup is that we can remove the generator and run it far away from the camper when we are doing extended boondocking stays.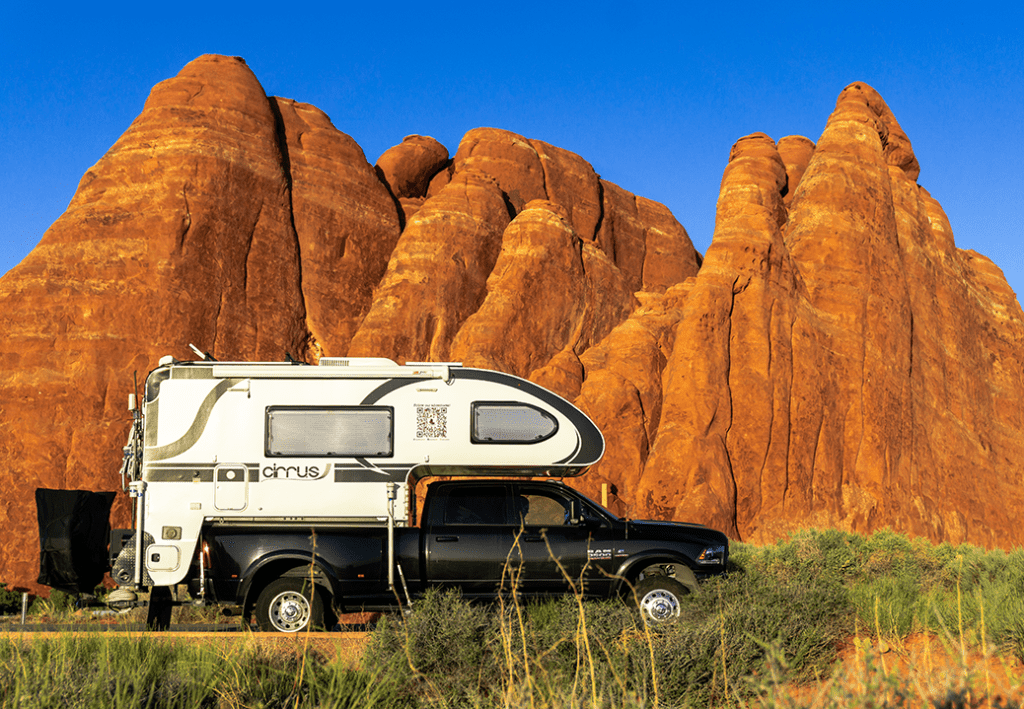 It's Possible to Teach Online & Travel
These are just three examples of avenues to teach online and remotely, but there are even more options. Many months of remote school during the pandemic opened the potential for more online teaching jobs. If you are a teacher who wants to live the travel lifestyle, begin exploring the possibilities!
Learn More From Our Remote Teachers
If you want to learn more about teaching online and other remote work, subscribe to Rootless Living. Our magazine is focused on resources and inspiration for nomads who want to work and travel. This article features advice from previous issues of Rootless Living. Subscribe to read the full articles, and check out our online teachers on social media:
If you are interested in teaching with VIPKID you can use Patty's Teacher Referral Code 'PATRI0422'. Follow Patty and Shane on Instagram at @gills_on_wheels for more!
Amy, along with her husband Matthew, are the couple behind @carpediemcampers. They live full-time in their Cruiser RV Stryker toy hauler with their two dogs and two cats. When Amy is not teaching Physical Education online, she is exploring the outdoors, visiting small towns, and finding the best breweries around!
See more from Scott & Sasha and follow their adventures on Instagram @stonyboot
Subscribe to Rootless Living
For more content like this, subscribe to our magazine. Digital and print subscriptions are available!