Hi! We are Kelley and Renee Hayes of @fiftyandfifthwheeling. We have been full-time RVers living in our fifth wheel toy hauler for the past year and a half in Georgia. Kelley's job relocated us from Keller, TX to Georgia in December of 2018 and we made the decision to try tiny living instead of buying another house.  
We sold or donated everything and began living in our camper.  We are primarily stationary and travel with our fifth wheel on weekends and vacations.  Kelley is looking to retire in the next two years from General Motors and we plan to travel full-time for 6 months of the year.  We are empty nesters and have two children, Amber who has graduated college and works and lives in Dallas, TX.  Our son, AJ, is a senior at the University of Arkansas. They come and stay with us in the camper and join us on some of our RV travels.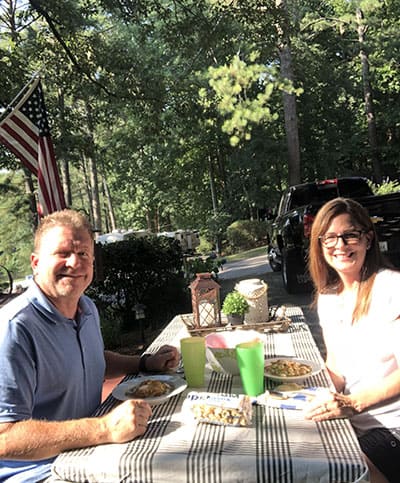 The recipe we are sharing for this week's summer cookout is the Slopper.  Essentially a Slopper is an open faced cheeseburger smothered in Green Chile and topped with onions and oyster crackers.  It's typically eaten with a fork and a knife or a spoon.  The slopper is served in restaurants and taverns in the Pueblo & Colorado Springs area of Colorado. 
Some have determined the slopper originated in Pueblo, Colorado in the early to mid-1970's.  The first restaurant to serve the slopper is still undetermined. Some claim it was first served in Coors Tavern, while others insist that it originated at Star Bar.  According to a version of the story on Gray's Coors Tavern's website, the slopper originated there in the 1950's.  They also claim that the name Slopper is derived from a comment by a customer stating the dish looked like slop. The website attributes the creation of the slopper to brothers Johnnie and Joe Greco, who have previously owned Coors Tavern.  
Another origin story has it that the slopper was invented by a regular patron of Coors Tavern in the late 1950's to early 1960's.  He got tired of having a plain hamburger every day and asked Joe Greco to put a cheeseburger in a bowl and smother it with green chile sauce. 
Kelley was born and raised in Pueblo, Colorado and this recipe is his family's version of the Slopper.  Every time we visit Pueblo, we make sure to eat a Slopper at Coors Tavern! The green chile can be simmered on the grill, stove top or in a crock pot.  We hope you enjoy this recipe as much as we do!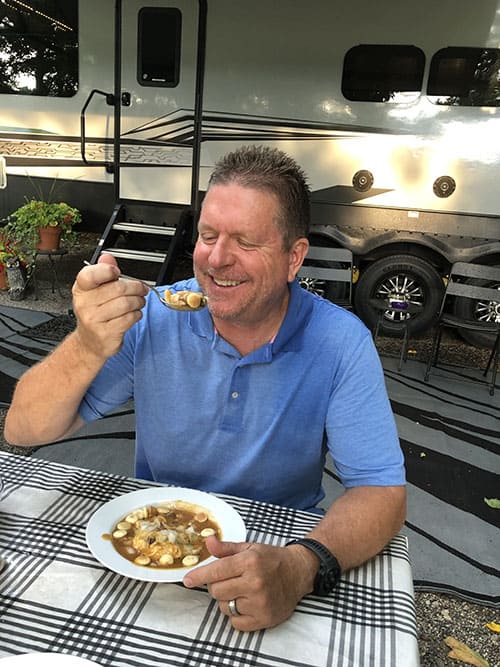 The Slopper
(Serves 4-6)
Ingredients:
1 ½ lb pork roast or butt – cut into small cubes
1 ½ onions diced (save ½ for topping)
Olive oil as needed
1-2 tsp salt
1-2 tsp pepper
1-2 tsp garlic powder
1-2 tsp diced jalapeños (optional)
½ cup of flour
1 8oz can tomato sauce
3 15oz cans of Hatch Green Chile enchilada sauce
3 cans of water
2 lbs ground beef (make 6-8 hamburgers)
6-8 slices of American cheese
1 bag oyster crackers
Hamburger buns
Directions:
Place cubed pork, diced onion and olive oil in a pan.  Cook until browned.

Add salt, pepper, garlic powder and diced jalapeños. 

After its all browned, add flour, more if needed to soak up the grease and brown slowly. Browning helps the flavor. 

Add tomato sauce, Hatch Chile and water.

Simmer on low 1-2 hours. If thickening is needed add a mixture of water & flour (be sure it is mixed well before adding to sauce).

Form and grill hamburgers.

Place ½ hamburger bun in bowl, add cooked hamburger, slice of cheese and top with chili. Top with diced onions and oyster crackers.  Enjoy!
This week's summer cookout brought to you by Kelley & Renee! You can follow them on Instagram, Facebook and YouTube @FiftyandFifthWheeling