Hey guys!! It's Lindsey and Danny from @LindseyandDannyVanlife. We have been living full-time in a self-converted camper van for a little shy of a year and a half with our two cats.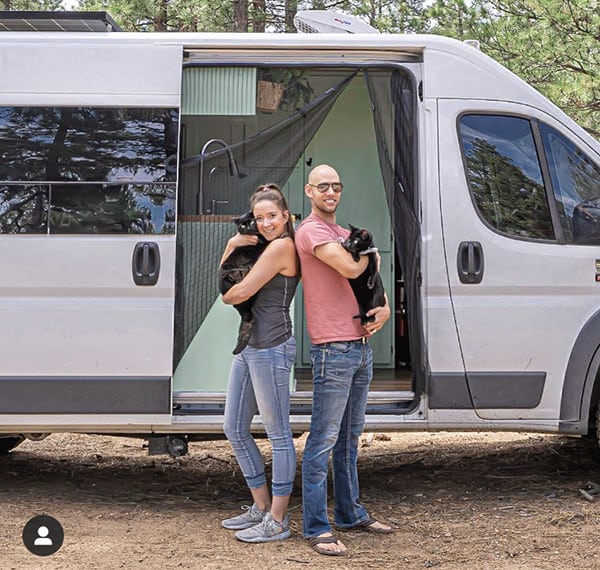 Danny is a ICU travel nurse, and his contracts generally are the driving force for where we go next. On his days off, we tend to escape out into nature, from summit to sea and everything in between.
One of our favorite parts about being nomadic, is the collaboration meals with others we meet on the open road. Everyone scrounges through their cupboards and refrigerators to see what they have, and you whip together a family style meal. Sometimes the combination of food just isn't quite the home run, and many appreciative chuckles are had while we woof down the odd buffet style concoction of food. Then there are times when it ends up being a complete masterpiece, and this my friends was one of those moments.
The first time we had this dish, we were parked in this little bay area in San Felipe, Northern Baja, Mexico. Plans were made earlier that we were going to collab on some shrimp tacos, but that was about it. Our shrimp was bought off the back of a truck on the side of the road, the coconut milk was made from a real coconut, cracked right there on the beach, and it was going to be shared between five nomads who just so happen to be at the same place and the same time. Call it fate, or call it the way of the open road. Either way, it was a memory and a meal we will never forget.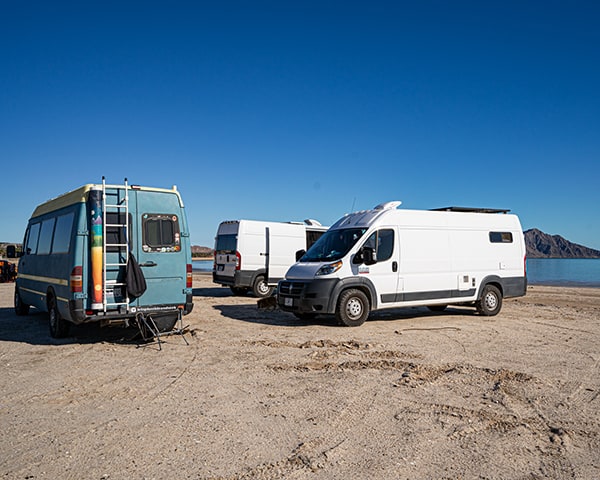 One of those five nomads was Nat from @letsplayrideandseek, she showed us this shrimp marinade and it was on like donkey kong after that. Our contribution to the family was my mango salsa. It added in this nice sweetness and a little heat to the savory shrimp. Then add in that nice crunch from the Red Cabbage, and BOOM! PARTY IN THE MOUTH, is the only way I know how to explain it!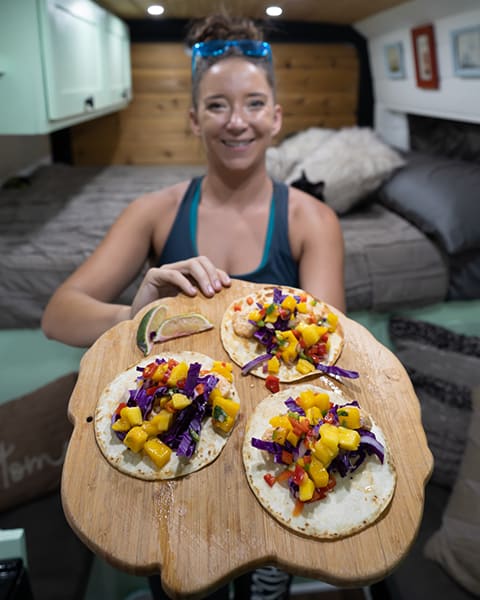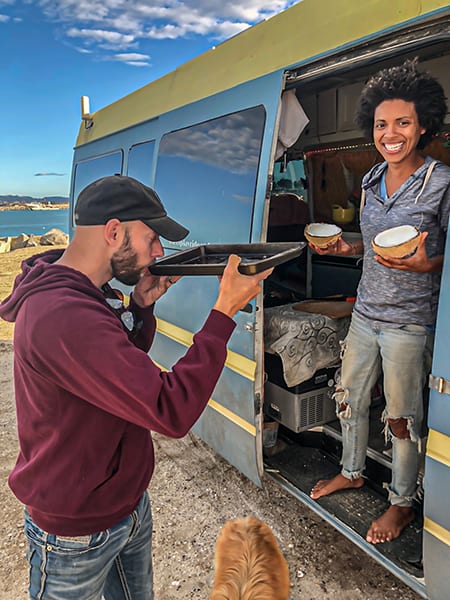 Shrimp Street Tacos with Mango Salsa
Ingredients:
For the Shrimp Marinade
2 lbs of shrimp
1 can of coconut milk
1-2 Tbsp of miso paste (to taste)
1 tsp of paprika (to taste)
Salt (to taste)
For the Mango Salsa
3 Mangos
1 jalapeno
1 red bell pepper
1 Tbsp of cilantro
¼ cup of red onion
Salt to Taste
Tortillas
Red Cabbage
Hot Sauce
Directions:
Mango Salsa:
Cube Mango, chop the jalapeno, red bell pepper, cilantro, and red onion.

Mix all ingredients for the mango salsa into a container, and refrigerate for 24 hours so all of the flavors can mix.
Shrimp Marinade:
Combine deveined and peeled shrimp and half a can of coconut milk.

In a separate mixing bowl, mix the other half with coconut milk and miso paste.

Fully break down the miso into the coconut milk so there are no more chunks left.

Add the miso solution in with the shrimp. Add paprika and salt to taste.

Allow to marinade for 24 hours
Assemble Tacos!
Chop Red cabbage into thin strips to fit on your street tortilla easily.

Cut limes.

Cook the shrimp.

Build your Taco with the shrimp (I sprinkle some of the marinade on top as well) red cabbage, mango salsa, preferred hot sauce and lime juice.

Enjoy!
This week's cookout by Lindsey & Danny! You can follow them at @lindseyanddannyvanlife on Instagram, TikTok & YouTube.