Hey y'all! We're Christina and Roger from @letsjustgo247 We love to travel, whether by plane, cruise ship, or with our new RV! I work for a large Healthcare System and Roger is in Finance and when we're not working, we travel as much as possible. Finally, after two years of dreaming, researching and shopping the big RV shows, we are excited to officially be RV newbies and weekend warriors. We're loving our new hobby with big dreams of getting out to the beauties of the West from our Virginia home base as soon as possible. To those of you already out there, we are watching you for inspiration!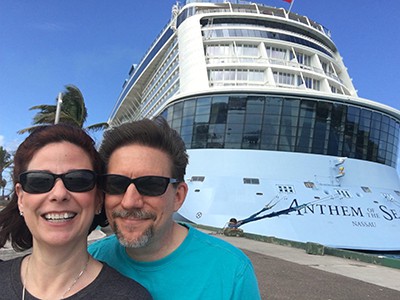 The RV lifestyle fits our love of travel perfectly and our Grand Design's Imagine XLS Couple's Coach is a cozy little home on wheels. The best part is that I can take our favorite recipes with us for great meals on the road.
While Roger and I were dating, his Mother, Rose Mary, taught me how to make her home-made Chinese meal which includes the fried rice we're sharing today. This meal is a family favorite that we love to share.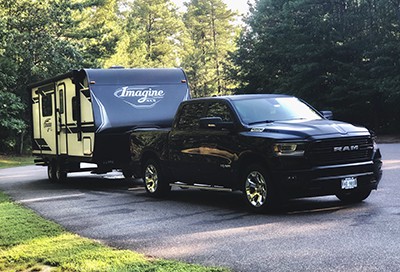 To take our favorite meal on the road, Rose Mary's Fried Rice has gone from a wok to our Blackstone Griddle and I paired it with Grilled Asian Garlic Steak Skewers. The two are easy to make on our griddle and are a great pairing for a Chinese take-out inspired meal in the woods!
The rice comes together quickly so I prep all of the ingredients and then start to cook. To make things easier, I cheat and use boil-in-bag rice. You can easily adapt the recipe servings up or down depending on how many you're feeding by making more rice and doubling your other ingredients. We use pork in the rice, well, because that's how Mom makes it! And while our family might raise an eyebrow or two, you CAN use chicken, shrimp, or go vegetarian and add onions, or peas and carrots. The sky's the limit!
We would love to have you join us on our website at letsjustgo247.com or Instagram, Facebook, and Pinterest @letsjustgo247.
Thanks to the Rootless Living Community for letting us share this special meal. We hope you enjoy it!
Happy Friday!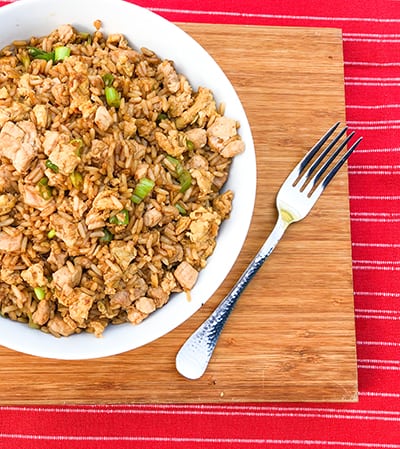 Rose Mary's Fried Rice
Ingredients:
Canola oil
1-2 bags of boil-in-bag rice, cooked and cooled; you can also cook rice in an Instant Pot or stovetop if preferred.
1-2 packages of thin cut boneless pork chops, diced
2-4 eggs, scrambled
1 bunch green onions or scallions, chopped
Low sodium soy sauce to taste
Directions:
Cook the rice and set aside.

Lightly oil your Blackstone Griddle and cook the pork on medium high heat until cooked through and no longer pink. Remove from the cooking surface and set aside. (If you don't have a Blackstone, you can use a wok on your grill)

Lower the heat. If you are opting to add any vegetables, this would be a good point to cook those on a lightly oiled surface, removing them to join the pork.

Still on a low heat, add a little oil to your cooking surface and scramble the eggs until cooked completely.

To the cooked eggs, add the cooked rice, pork, scallions, (veggies, if using) and soy sauce to taste.

Stir to combine and continue to stir to prevent the rice from sticking and to heat the dish through. Serve and enjoy!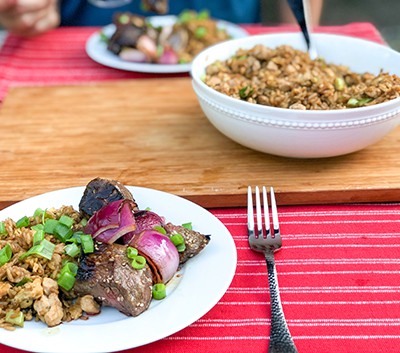 Grill
ed Asian Garlic Steak Skewers
Recipe from Alyssa Rivers
Ingredients:
1 1/2 pounds top sirloin steak, cubed
1 red onion, cut in large chunks
2/3 cup soy sauce
6 garlic cloves, minced (I cut back on this just a shade)
1/4 cup sesame oil
1/2 cup vegetable oil
1/2 cup sugar
1 Tablespoon grated ginger
2 Tablespoons sesame seeds
Sliced green onions for garnish
Skewers
Directions:
In a large bowl, whisk together soy sauce, garlic, sesame oil, vegetable oil, sugar, ginger, and sesame seeds. Add the cubed steak and toss to coat. Marinate for 3 hours or overnight.

 

Preheat the grill to medium high heat.

Thread the meat and onion onto the skewers.

Grill 8-10 minutes until the meat is cooked to your liking.
Tips & Tricks: If you love garlic, go for the 6 cloves in the recipe. I cut back on it just a bit to balance out the flavors. You can buy your sirloin and cut it into cubes or buy it already cubed which is a short cut that I use.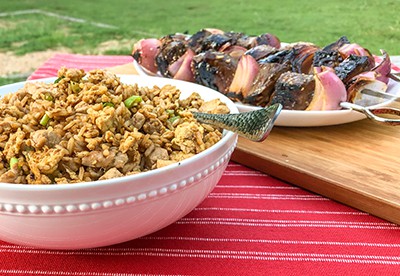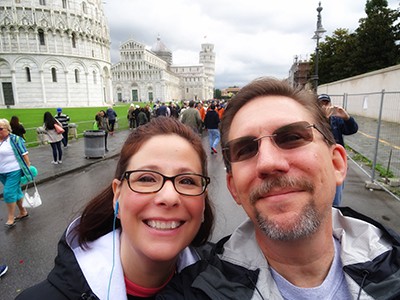 This week's Summer Cookout is from Christina & Roger! Follow their travel adventures on Instagram, Facebook, and Pinterest @letsjustgo247 and check out their website at letsjustgo247.com.