How do you educate in your roadschool? Traveling homeschoolers have boundless opportunities to learn from resources around the world. Some students learn through homeschool travel abroad, while others are living and homeschooling in an RV. 
What exactly is roadschool? Malinda Fuller of @thefulleradventure, who combines RV travel with homeschool, explains it best: "Full-time nomadic families use the term 'road-schooling,' which means an education that utilizes local or regional resources."
"'Educating' is less about getting through a curriculum and more focused on full immersion wherever you are…Rather than learning every subject from one (or a handful) of teachers required to teach from textbooks, nomadic children have the opportunity to learn from adults who are either passionate about what they are sharing or have specialized education."
Homeschooling on the road is often more memorable and impactful because the students see, touch, and interact with what they're learning instead of reading about it in a book.
Roadschool also looks different for every family. Some traveling homeschoolers use structured curricula or virtual education to frame their learning. Others take a more relaxed approach and allow their travels, experiences, and people they meet to guide their lessons. No matter where you journey or how your family learns, here are some ideas to engage your traveling students.
Roadschool Idea 1: Hiking
Exploring trails is an opportunity to teach various lessons. Cara Cherry of @chasing.cherrys used hikes in Yellowstone National Park to study North American birds with her children. It's a great way to learn about wildlife, plant life, ecology, and geology up close. Kristin and Tony Faiola (@thefaiolas) teach their children survival skills outdoors. As a bonus, hiking is also a great physical activity.
Roadschool Idea 2: Homeschool on RV Travel Days
Heather and Matt Averill (@the.airstream.family) found a clever way to make even mundane travel days a learning opportunity. They homeschool while driving their airstream RV. Lessons include "reading signs on the road, calculating miles on driving legs, planning routes, reading maps, and planning for weather."
Roadschool Idea 3: Workbooks
By visiting farms, kids can learn about agriculture, animals, where our food comes from, and practical skills. Families that RV travel and homeschool can even leverage a Harvest Hosts membership to stay at farms. Kristin and Tony Faiola (@thefaiolas) had a memorable roadschool experience through this membership: "We learned the entire process of raising sheep for milk, cheese, and meat while staying at a Harvest Host farm."
Roadschool Idea 5: Create Art
Nurture your kids' creativity. Encourage them to paint, draw, build, write, and create art wherever they go. Enroll them in art classes along the road to learn new skills. Visit art museums, galleries, and artists around the world for inspiration.
Roadschool Idea 6: National Parks & Junior Ranger Programs
The US National Parks are an education goldmine, especially for families who RV travel and homeschool. In addition to the major National Parks, over 400 National Park Service units offer on-location roadschool lessons in science, history, and more. 
The National Parks are one of Malinda Fuller (@thefulleradventure)'s favorite places to explore and learn, especially thanks to the National Park Service's Junior Ranger program:
"Our kids get educated about wildlife, ecosystems, the park's history, as well as the people who helped build it. They earn badges for completed activities, but before they can be 'sworn in' as junior rangers, they have to interview a staff member, asking questions and recording answers. While it seems like a fun activity, they can be very involved and time-consuming. Our kids love the program and look forward to earning new pins for their ranger vests."
Roadschool Idea 7: Virtual School & Web Classes
For traveling homeschool families who want to leverage the knowledge of external teachers, virtual school and web classes are a great option. Kids can experience more structured school lessons by remote learning from their RV or anywhere in the world with an Internet connection.
Don and Vanessa Renyer (@campfiresandfireflies) use a virtual school for their daughter's, education. "She logs into Zoom for two hours a day Monday through Thursday with other virtual students and her teacher," they say. "It allows her time to socialize with peers and provides a general overview of the concepts she'll be learning through the week. For the rest of her schoolwork, she has a chart of what's expected to be completed weekly and she can finish it in her own time frame."
Dani Barber (@the.wild.seekers) also utilizes online homeschool programs while living and homeschooling in an RV, including Easy Peasy All in One Homeschool, Seterra for geography, and ABC Mouse and Adventure Academy.
Roadschool Idea 8: Fitness Classes
Trying different fitness classes on the road is a great way to teach kids healthy habits through activities that suit their interests. Cycling, yoga, climbing, skiing, swimming, sports, and dance are a few of the exercises your roadschool students may enjoy. Sounds way more interesting than dodgeball in PE class!
Roadschool Idea 8: Historical Sites
Make history come alive! There are countless historical sites to visit anywhere you are homeschooling on the road. When Laura Georgieff (@frugalforluxury) did homeschool travel abroad in Europe, her family focused lessons on the World Wars. Stateside, they learned about American wars and segregation while visiting historical battlefields, missions, plantations, and National Parks.
Cara Cherry (@chasing.cherrys) shared a story about a particularly moving roadschool history lesson at the Old Exchange building in Charleston, South Carolina.
"My daughter was 8 years old, curious, and free-spirited. She and her brother were being a little too noisy for the setting, so I directed them each to read a specific placard to tell me about later. They set to their task and a few moments later, I looked over to see tears in Charlotte's eyes. She told me about a boy near her own age who had been sold away from his mother and father to a plantation a state away. Her innocent eyes blinked at me, unsure of how to process the knowledge that kids were torn from their families simply because their skin was a different color than hers."
"It was a heartfelt lesson, and the impact would have been completely different if she had been reading about it in a book. Standing in the very place where it happened made the effect on my daughter palpable.
Roadschool Idea 9: Cooking & Household Skills
Everyday tasks are an opportunity to teach your kids practical skills while they travel. Give them lessons in cooking, cleaning, and running a household. Involve your kids in the travel planning process.
Heather and Matt Averill (@the.airstream.family) incorporate conservation discussions when teaching their kids about running their household on wheels as they are living and homeschooling in an RV.
Roadschool Idea 10: YouTube
It seems like you can learn about anything on YouTube these days. The best part is that this trove of educational videos is free. Video lessons in science, art, literature, history, math, and practical skills and be incorporated into any roadschool course.
Some popular YouTube channels among roadschool families include Crash Course, Ted-Ed, The Smithsonian Channel, and National Geographic Kids.
Roadschool Idea 11: Homeschool Travel Communities
You don't have to roadschool alone! Homeschool groups and traveling family networks can connect you to other roadschool families online or in person.
A popular group for homeschool RV families is The Fulltime Families network. Malinda Fuller (@thefulleradventure) says meeting families through this group is especially educationally enriching.
"These parents are often the best teachers to our kids because they pass on both skills and knowledge freely. Our kids have been introduced to coding, sat in on art and cartography classes, learned all about sourdough bread, completed writing lessons, yoga instruction, and more, as a result of being with other full-time traveling families."
Roadschool Idea 12: Museums
Museums are for learning. While homeschooling on the road, families encounter so many museums along the way. Museums teach history, science, art, and more. Many provide educational booklets, activities, or workshops for kids to get even more out of the experience. Your roadschool students will remember their lessons much more with in-person experiences with artifacts and exhibits.
Roadschool Idea 13: Government Buildings
Civics lessons don't have to be dull. Visiting government buildings can help kids understand how our government works and how to be responsible and caring citizens. Perhaps you can even arrange a meeting between your kids and some of their representatives.
That's why Kristin and Tony Faiola (@thefaiolas) have a unique bucket list for their family: "One of their full-time journey goals is to visit all the capitol buildings, which has been a great way to bring history and government into their school day."
Roadschool Idea 14: Native Reservations
Respectfully visiting Native reservations is a great way for kids to learn history that traditional history books too often neglect. Many Native reservations provide cultural centers, museums, or tours to teach visitors about their people and traditions. 
Roadschool Idea 15: Educational Games
Educational kits, board games, card games, and video games are a great way to add engagement to roadschool courses. Big Brain Academy, Prodigy, Wonderopolis, and Tynker are just a few examples of educational games. These games can be played anywhere or on the go.
Zoos are another great location for students to learn about animals, ecology, science, and the environment. Many zoos offer guided tours and workshops to enhance your visit. Plus, who doesn't love to meet animals in person?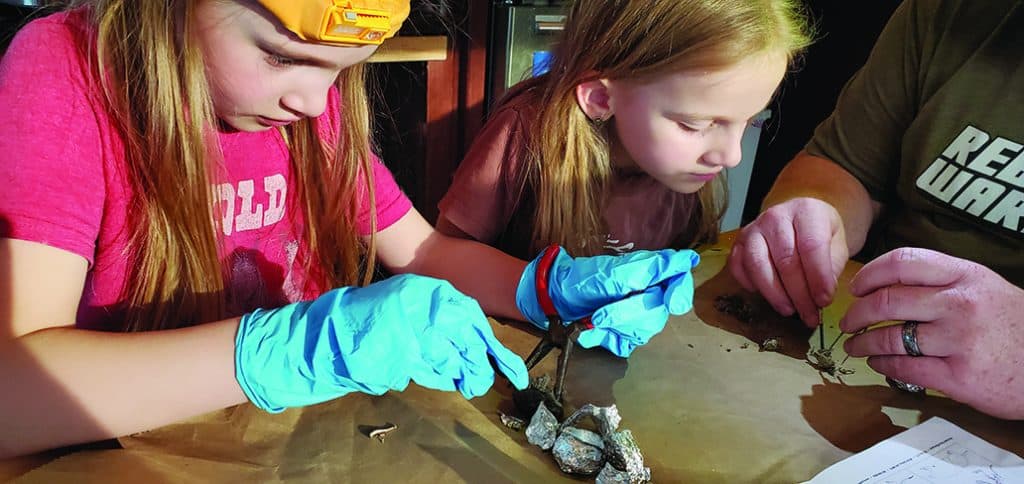 Learn More About Roadschool & Homeschool Travel
For families already homeschooling on the road, we hope this article provided some fresh ideas to add to your children's education. 
Are you curious about roadschool, RV travel homeschool, or homeschool study abroad? We feature roadschooling stories in Rootless Living magazine. Subscribe to discover more about living, working, and learning on the road.
Subscribe to Rootless Living
For more content like this, subscribe to our magazine. Digital and print subscriptions are available.
Contributing Roadschool Experts, Homeschooling On The Road
This article features ideas and quotes from real roadschool families originally featured in Rootless Living magazine. Subscribe to read the full roadschool articles by these authors:
"Road School," by Malinda Fuller (@thefulleradventure)
Featured in Rootless Living #4, Jul/Aug 2020
Alex, Malinda, Lydia & Madi are a full-time nomadic family saying "yes" to adventure and life in a fifth wheel. They love national parks, sand dunes, the mountains, small towns, good food, and new experiences. They love to be outside and love boondocking, but have found that it's more about the people that you're with, than the place that you're parked. Find them on Instagram @thefulleradventure.
"Ways to Homeschool Your Kids While Traveling," by Alexis Nascimento
Featured in Rootless Living #14, Mar/Apr 2022
"An Education on Wheels," by Cara Cherry (@chasing.cherrys)
Featured in Rootless Living #15, May/Jun 2022
Cara and her husband Brent, along with their 3 kids, set out for full-time RV life in June 2020 from Los Angeles and are settled in Georgia for the moment. You can follow their journey on Instagram @chasing.cherrys.