We are Magda, Flori and Luna of @brave_and_us! We are a full-time RV family who have been exploring North America since May 2019. We are a family that cooks and rarely goes out to eat, because we enjoy it so much!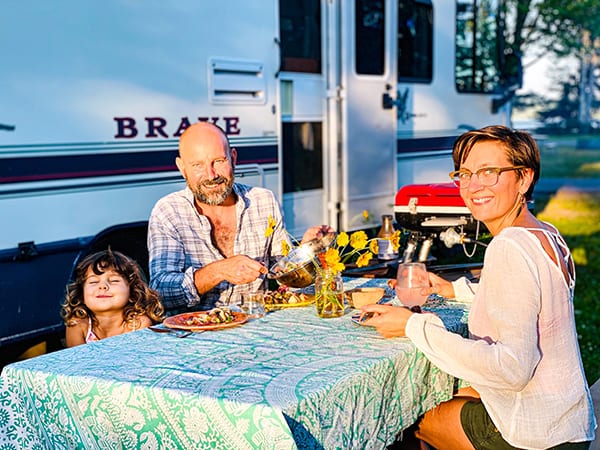 Today we want to share one of our favorites which you can serve as a side, like we did with our grilled pork chop. Or as a quick lunch on a travel day. What's better, than a good potato salad as a side dish to your summer cookouts? Especially one which is tangy, light and full of flavor.
Both Flori and I were born in Eastern Europe. As much as we love our traditional foods, we often try to be creative and add little twists on our good old Polish or Romanian recipes.
Living full-time on the road certainly didn't change our healthy way of eating. If anything it broadened our skills. We have dedicated our whole blog to tips and tricks on cooking in our tiny space. You can read more over at braveandus.com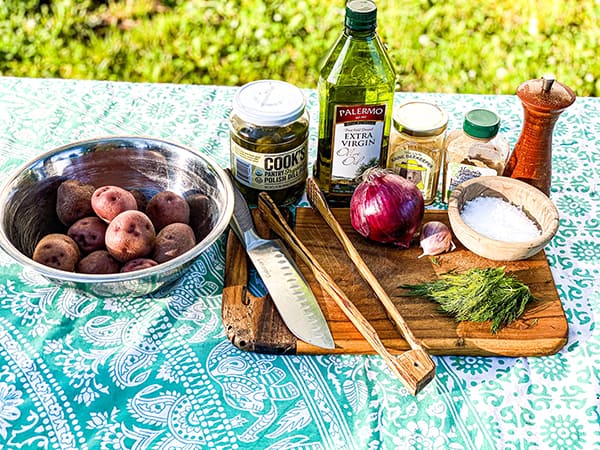 As some of you might know, potatoes and pickles are huge in Eastern Europe. We decided to combine the two plus few other ingredients to complement the salad. This potato salad has been modified and perfected over time so you will find both our Polish and Romanina twists to it!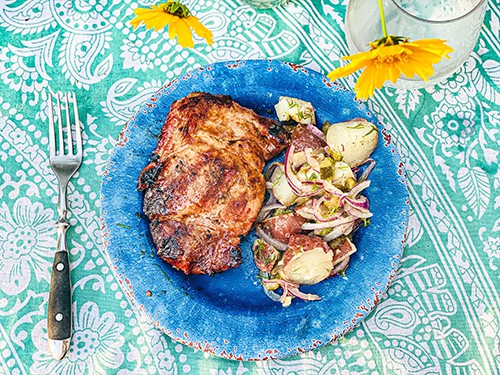 Potato Salad with a Twist and Grilled Pork Chop
Ingredients:
2 lbs young red potatoes
1/2 medium size red onion
3 medium size pickles
Handful of fresh dill
Salt & pepper to taste
Dressing
1⁄4 cup of olive oil
2 cloves garlic (crushed)
1 tsp mustard
1 tsp honey
Direction:
Boil potatoes in lightly salted water.

While potatoes are boiling, julienne your red onions, chop up a handful of dill

and dice pickles to desired size. (We like them small.)

Once the potatoes are soft drain and let them cool.

Cut potatoes into quarters and mix everything




in a large bowl.

In a small jar combine the dressing ingredients and whisk together until

blended. Add salt and pepper to taste.
Bon appetite! or as we say in Romanian, poftă bună! or Polish, smacznego! Enjoy!
This week's Summer Cookout is from Flori, Magda & Luna! Follow their travel and food adventures on Instagram @Brave_and_Us