Hello friends, adventure seekers and food lovers!
We are Dominic & Maria of @BiwakKitchen, two mountain kids who met four years ago through our shared love of mother nature and good food and perhaps a few more things. Since then, we began spending more and more time in remote places seeking new adventures.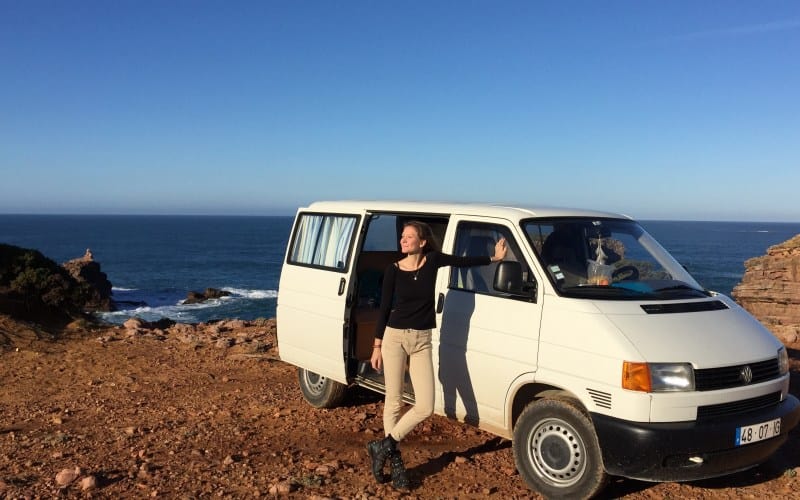 As you can assume, being on a 3,000m peak or backpacking around a small island in the Atlantic where you rarely see another human face, brings its own difficulties when the tummy starts growling. That's how it all began, inventing new colorful recipes and making old family recipes adaptable for our wildlife became our passion.
We realized we don't have to reserve a table with a sparkling candle light dinner or even the need for a fancy kitchen to create outstanding meals. Exploring new dishes and places became our hobby. While Dominic was cutting hair and I was studying foreign languages we both dreamed about our next weekend trip together in the van.
Last year, we finally decided that waking up with the first sun rays of the day warming our faces, opening the door of the van and breathing in the fresh ocean air was the life we wanted to live.
Some time ago we became aware that we're not the only outdoor freaks out there looking for a window of freedom and peace in this bustling world. We found ourselves in the backpacker and van life community. We decided we wanted to share our knowledge and passion with all of these wonderful like-minded people and started writing an outdoor cookbook.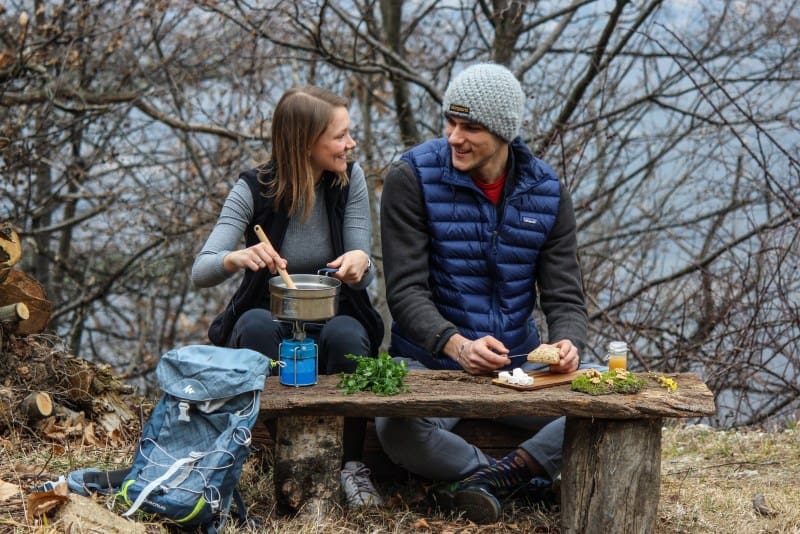 We called the book "Experience Nature and Good Food", because that's what we live every day and what we felt when trying to give our passion a name. It's all about the experience, that's what makes it so authentic and different! The outdoor kitchen appeals to the senses of taste and also the sound of waves breaking in the ocean, the woodpecker hammer in the shadowy woods, the milky way sparkling above and the smell of the delicate fragrance of freshly picked herbs crushed in your fingers. And all of it while a great meal is cooking on the crackling campfire.
Now it's time for a good mood and tasty food. In thinking of a vegetarian alternative to meatballs we came up with these hearty mushroom balls. Tender in the inside and firm with a crust on the outside., they taste great with marinara too!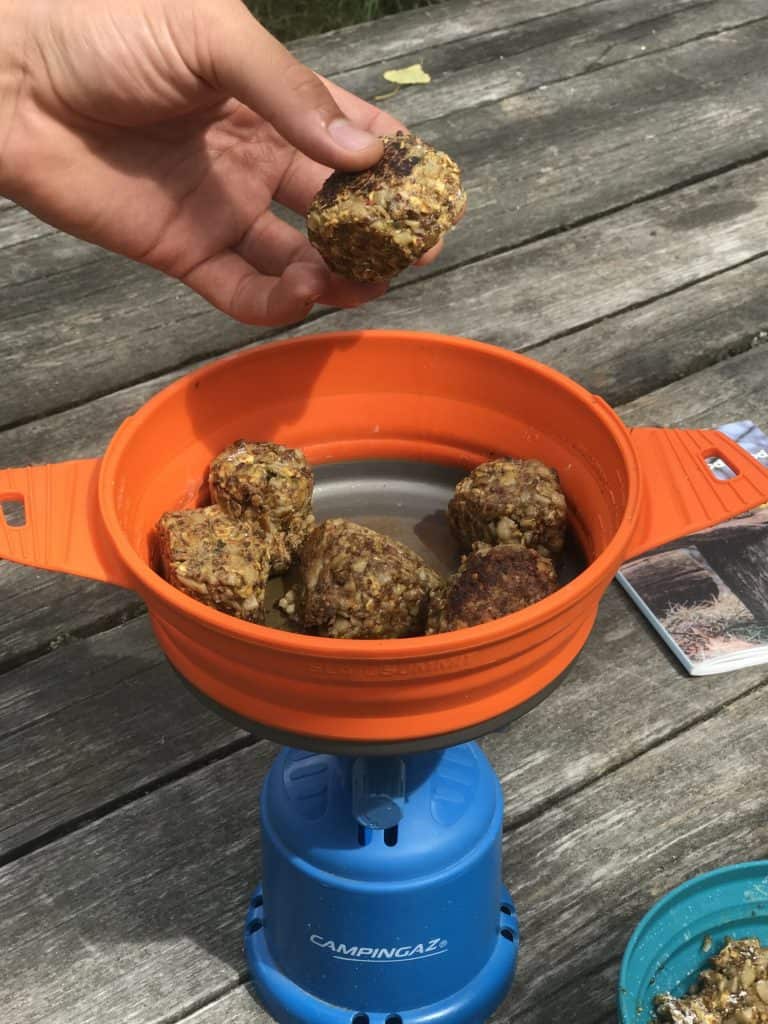 Mushroom Balls
Serves 2
Ingredients:
4 cups mushrooms, finely chopped
1 garlic clove
1 medium onion, chopped
½ cup ground flax seeds
1 cup oats
¼ cup spelt flour
2 eggs (optional)
herbs: oregano, rosemary, thyme
cooking oil
salt and pepper
Directions:
In a skillet heat oil and stir fry the onion and garlic until translucent. Add the mushrooms and cook until the liquid from the mushrooms has evaporated. Transfer to a bowl. 

To the mushrooms, add oats, flax seeds, spelt flour, eggs, herbs and stir until crumbly. Season to taste with salt and pepper.

Now form the balls (use a spoon to help), coat them with a little flour and sauté in cooking oil until the balls turn golden. Enjoy

!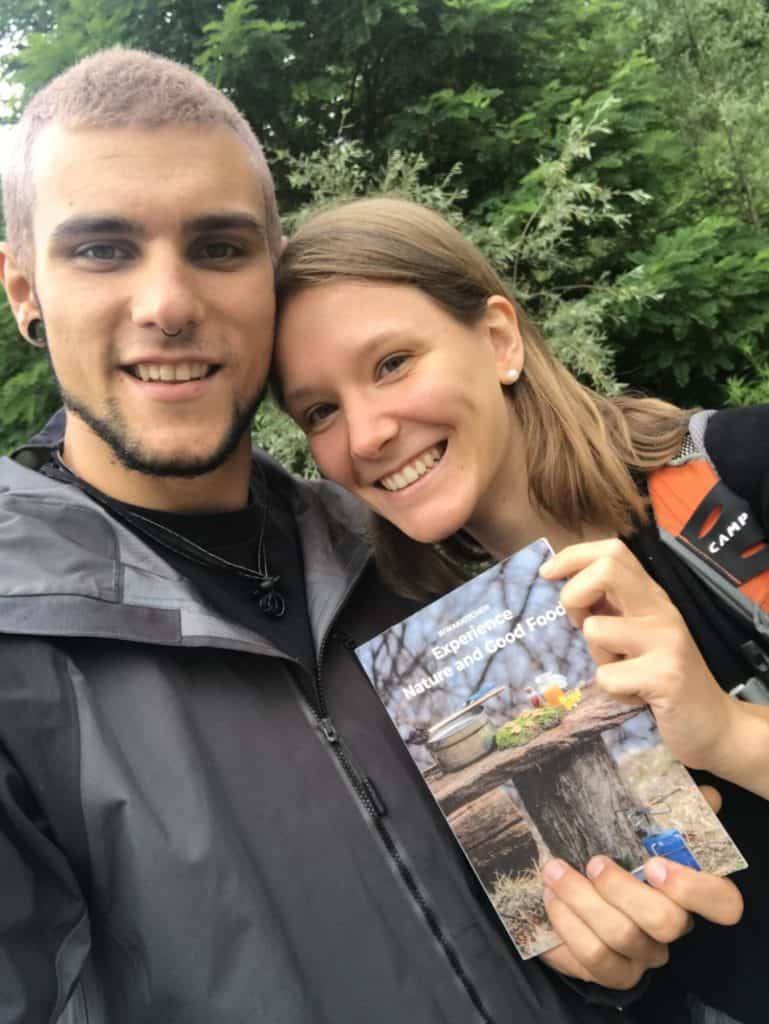 This week's Summer Cookout is from Maria Gamper and Dominic Öttl. Follow their travel and food adventures on Instagram @BiwakKitchen