By Rebekah and Jared of @RebekahandJared and Jesse and Melissa of @AdventureEndeavor
One of the best parts of Summer Cookouts is sharing good meals with friends. We are Rebekah and Jared from @rebekahandjared and we have been living in our Tiffin motorhome full-time since November 2019. We are excited to share with you one of our new favorite summer recipes that was introduced to us by some good friends.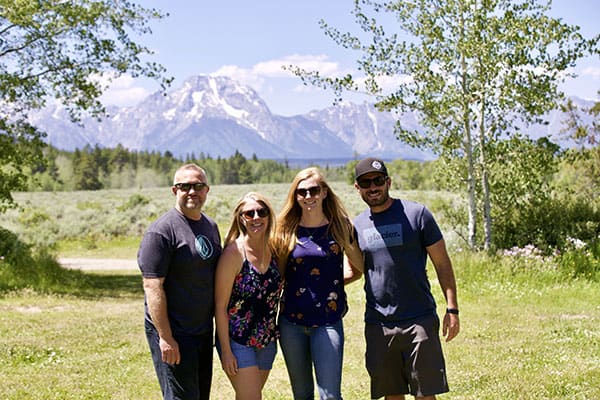 When we started boondocking earlier this year with our full-time RV friends, Jesse and Melissa of @adventureendeavor one of our favorite things to do was fire up the smokers and grill out together. When we first tried their KeDough pizza recipe we were blown away by the incredible taste. Cooking pizzas on the smoker quickly became a new tradition we all like to call "Pizza Friday!"
It's a great meal to share with friends because everyone can choose their own toppings and create pizzas they enjoy. That means no more fighting over pineapple on pizza because there are plenty of crusts for everyone to create their own favorites!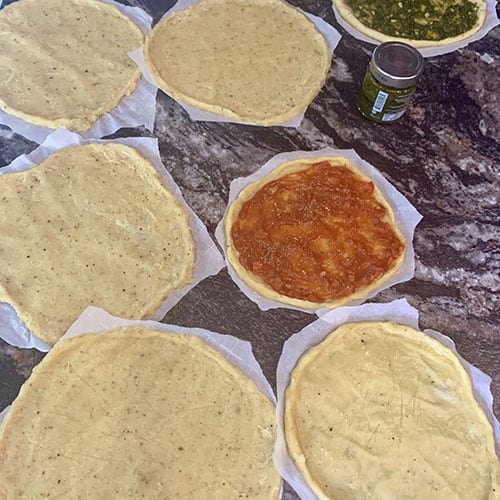 The best thing about this recipe is once you have made the dough, there are countless combinations of toppings you can make. We have listed a few of our favorites below, but we encourage you to use your creativity (and your leftovers from earlier in the week) to make it your own!
Once the pizzas start cooking, we find ourselves standing around the tables sharing delicious slices while sharing stories from the week and celebrating the start of the weekend together. We hope you enjoy this recipe as much as we do!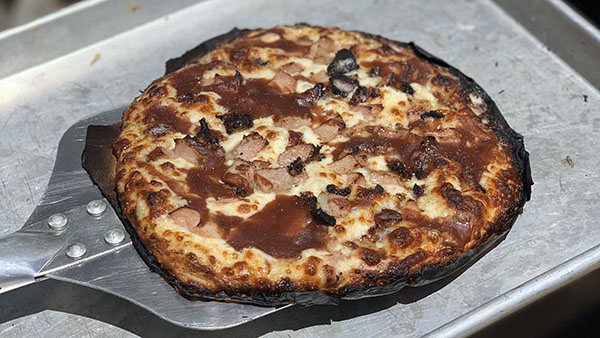 Pizza on the Smoker
For the KeDough:
(makes two pizza dough crusts)
1 1/2 Cups Mozzerella
1/2 Cup Almond Flour
1 Egg
1 tsp. Oregano
Dash of Salt & Pepper
Directions:
Using a pizza oven insert or a pizza stone pre-heat the smoker to 335 degrees. We are using a Davy Crocket Green Mountain Grill with a Pizza oven attachment.

In a microwave safe bowl, heat mozzarella for 1 1/2 minutes – 2 minutes until melted.

Add 1/2 cup almond flour to the bowl and mix by hand until well combined (we recommend using food gloaves to help with the heat while mixing).

Add one egg and seasonings to the bowl and continue to mix until a dough forms.

Divide the dough in half, placing once half in between two sheets of parchment paper, press down firmly to form the crust, about 8" round.

Remove one side of the parchment paper then use a fork to poke holes in the crust. Remove only the outer edges of the parchment paper so they will not burn while cooking. Repeat for second crust.

Add your favorite sauce base and toppings to the pizza.

Using a pizza peel, insert the dough still on the parchment paper into the pizza over and cook for approximately 5




minutes per pizza.

When done, remove from smoker and peel off remaining parchment paper while letting the pizza sit and rest for 2-3 minutes before cutting and enjoying.
BBQ Chicken Pizza
– BBQ Sauce of Choice (*for Keto Pizza we recommend G Hughes Sugar Free BBQ Sauce)
– Precooked Chicken
– Precooked Bacon
– Red onion
– Cover with cheese
Jalapeño Popper Pizza
– Cream Cheese (softened)
– Grilled or smoked diced Jalapeños
– Precooked Bacon
– Cover with cheese
Meatlovers Pizza
– Marinara
– Pepperoni
– Bacon
– Sausage
– Cover with cheese
Follow along with Rebekah and Jared at @RebekahandJared on Instagram & Facebook. You can also find Jesse and Melissa at @AdventureEndeavor on YouTube, Instagram and Facebook.