So you're a digital nomad, constantly on the move, and you want to start a podcast but don't know how? Or maybe you're just looking for ways to make your podcasting process easier while living in an RV, hotel, or other nomadic environments. You can start a podcast remotely, and in this guide, we will teach you the equipment you need and tips for podcasters on the road.
Podcaster and digital nomad Cindy Scott has been full-time RVing with her husband Barrett since 2018. They travel with their furry friends — cats Squirt & Dakota and a Corgi pup named Marty. In this article, she shares how to start a podcast from the road.
A version of this article originally appeared in the May/June 2021 issue of Rootless Living Magazine.
How to start a podcast from the road
Here is a step-by-step guide for how to start a podcast from the road!
Before we jump into tips for podcasting, it's important to first get very clear on the concept of your podcast.
Your first two steps are:
Figuring out your podcast idea.
Figuring out who your podcast will serve.
We all have that special nugget of information that can help someone else out there. Spend some time figuring out how you can help others, and that can lead you to understand your podcast idea & who your audience is. Whatever your thing is, there's a demand for that podcast!
Why are you starting a podcast, and who is it for?
My website, Cinders Travels, has always aimed to inspire exploration of the great outdoors. That mission started simply by sharing tips and stories straight from our RV journey and encouraging people in all stages of life to consider the digital nomad lifestyle and get outside.
After a couple of years of feeling like a full-time tour director, I was finding myself endlessly searching for the truly best things to do everywhere we went. It didn't take long to realize the local visitor centers often did not have the best suggestions.
It's actually the locals at gear shops, coffee shops, gas stations, and bars who have almost always given us the best tips and advice for what we should see and experience. One shop owner even went so far as to draw us a map to get to a trail.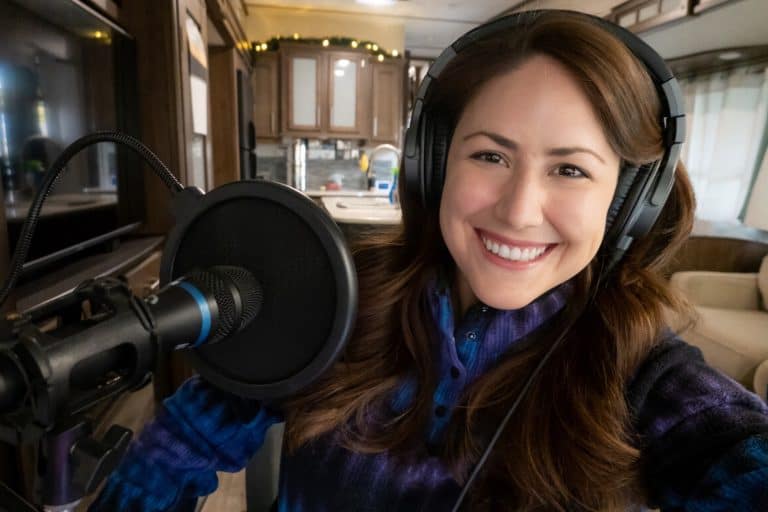 This realization sparked a new idea that would become the next phase of content for Cinders Travels' readers: I could start a podcast for outdoor enthusiasts that would provide a guide for places of interest from a local's perspective. 
Now outdoor adventurers can travel to a new destination and jump straight into the best of the best!
This is how the "Locals Know Best" podcast was born. So that's my story. Now let's get to yours so you can learn how to start a podcast!
Plan a podcast release schedule
Now that you've established your idea, how often can you release an episode?
Plan and stick to the schedule that best fits your lifestyle and travels. RV life can sometimes come at you fast. Frame weld breaks and tire blowouts have led me to produce episodes from the side of the road in my truck. I've had to reschedule recordings due to unpredictable weather events and surprise holes in the roof.
I asked myself how often I could put out not just an episode, but a great episode. The answer was every two weeks.
Ask yourself: what release schedule is realistic? Then aim to be consistent with that decision.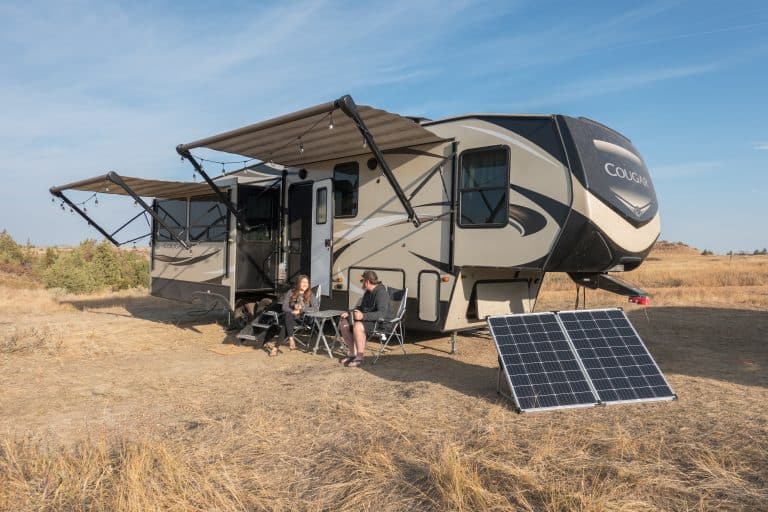 Tips for choosing a type of podcast
The next step in how to start a podcast is figuring out what type of podcast you are going to have. The most common formats are: solo, interview, co-hosted, panel, documentary, fiction, and docu-drama.
My podcast is an interview podcast. Logistics include finding guests, scheduling interviews, and relying on others to show up. These are all skills I honed in my past media life. Ask yourself which podcast type lends itself best to your skill set.
When I first had my idea, I held a couple test episodes with friends. It was immensely helpful to have people to bat around ideas with in order to lock down the show's interview format.
What you need to start a podcast: name, description, cover art, and music
Picking your podcast name, description, cover art, and music will take time. My suggestion is to round up a solid group of friends for brainstorming sessions.
When you have a handful of options, take those straight to your target audience with a good ol' fashioned Facebook poll. See what your audience prefers.
Obtaining and managing podcast guests
Once I started producing episodes, I began interviewing people I had met whom I knew would be excellent tour guides with insider information. I started with what (and who) I had in my life.
As the podcast started drawing more attention, I created a process to help get the best interviews. Now every potential guest fills out a Google Form answering questions about their area ahead of time. 
Every month I go back to my pool of possible guests and pick a few episode concepts that excite me. I ask myself if I think the adventurous people in my life would become intrigued and want to go there. If I don't think the answer is yes, I don't produce the episode. 
Those guests are then sent an agenda describing how the interview will go, and we make sure we both think it will be a good fit. And then, finally, I always check in a few days before recording.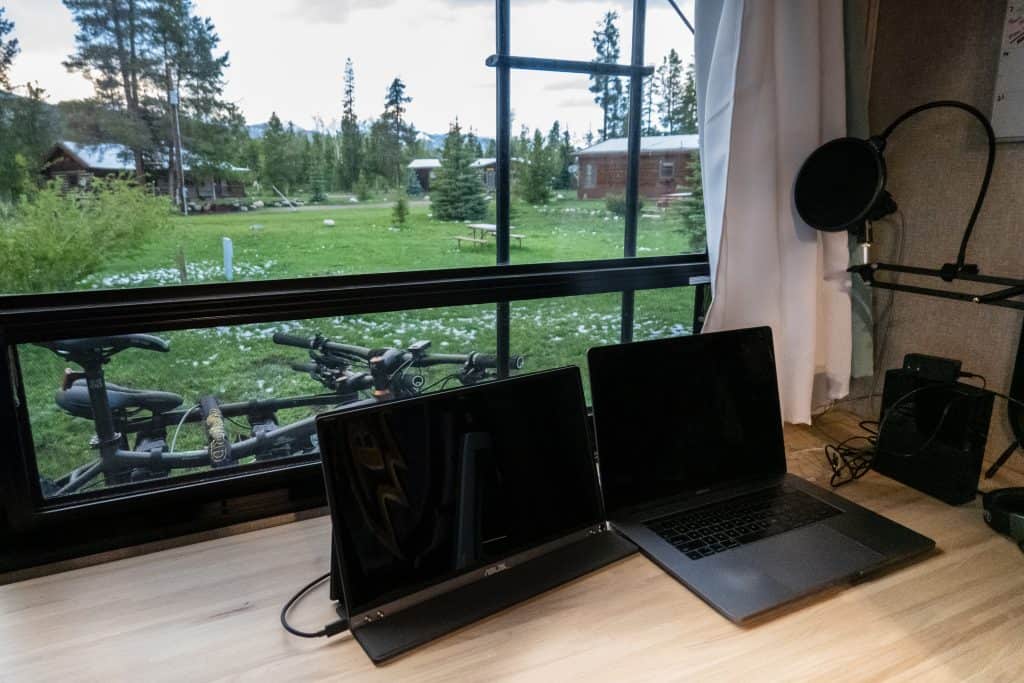 What equipment is needed to start a podcast?
You will need equipment for starting a podcast. I produce my podcast with:
MacBook Pro
iRig microphone
Desk mount boom arm mic stand
Microphone shock mount
Pop filter
Audio-Technica ATH-M40x Headphones
With a background in media, I had most of this equipment before I started, so this was the epitome of starting with what I had and upgrading when needed. Are these the industry standard pieces of equipment to start a podcast? No. Do they work? Yes!
The only two pieces of podcast equipment I added before hitting record were the mic stand and shock mount. If you don't have them, they are very affordable and worth consideration. Both make a big difference in audio quality by helping to prevent hand-held feedback and allowing you to record from a comfortable position. 
Plus, now I keep my setup built and then just gently tuck my microphone out of the way when it's not in use.
How to start podcasting recording
As you can imagine, recording episodes in an RV is always an adventure! Every time we relocate, my first priority is making sure we have a strong internet connection via either our AT&T or Verizon hotspots to obtain a quality recording.
Then, prior to a recording, I do my best to prepare my guests on what to expect. I tell them there will be editing involved because I enjoy a concise story. Also, it's a tight space … pets may interrupt.
In the beginning, there was inevitably a moment in every episode where something in the RV started making a strange noise, or a cat would jump on my laptop. 
I used to evict my husband during recordings. These days we have a puppy and a kitten in the RV, so we coordinate recording times differently. He either takes off in our truck with the kitten and pup or opts to be locked up in the back bedroom with all three pets. (What a guy!)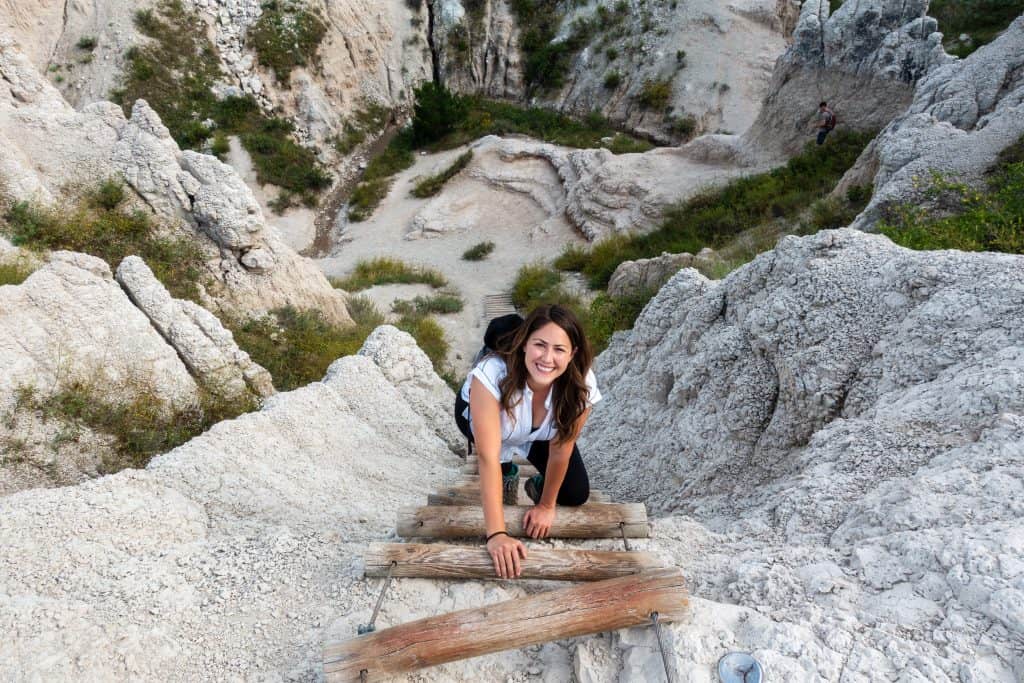 During the interview, I keep my key bullet points in front of me to make sure I'm covering all my bases.
I use SquadCast for my podcast recording platform. However, the platform is not flawless on the road. I have had occasional recordings not come out well. 
I recommend using an additional program like QuickTime to capture a high-quality local recording on each end. Having locally recorded files has saved me more than once.
Why SquadCast? Quite simply, it's effortless for everyone involved. All my guests have to do is click on a link to be brought to the recording session. 
SquadCast also provides a double-ender recording, meaning each speaker is recorded locally instead of over the internet. Therefore the audio is less likely to have internet glitches or suffer from degradations.
For me, editing is where the magic happens. With a media and storytelling background, I know the episodes need to get to the point and inspire quickly. My goal is to keep the podcast enjoyable so new people will want to listen and new guests will want to participate.
For my podcast, editing happens in two phases. First, I take the original recordings into Descript, cut out all of the unneeded dialogue, and structure it into a well-polished conversation. 
My dear friend and fellow media professional, Johnny Watkinson, helps me in this phase by listening to almost every episode's raw recording and giving notes about the most enjoyable parts. I compare his notes with mine and make sure I'm not leaving anything important on the cutting room floor.
Then I pass the episode off to my finishing editor and audio engineer, Tom Kelly of Clean Cut Audio. 
Every guest presents unique challenges with their audio. Tom has the audio engineering experience necessary to give every episode a professional polish by removing any distracting verbal tics, crutch words, long pauses, and background noises that occurred during the recording. He also places the music and makes sure the podcast meets broadcast loudness standards across all platforms.
Your own podcasting hosting, distribution, and syndication
I use Libsyn for podcast hosting, but there are a ton of options out there to make sure your podcast can be shared with the world. I chose Libsyn because they were the first in the business, and many of the biggest podcasts in the industry trust them with their precious RSS feeds.
What I've learned from starting podcasting
In short, I've learned starting a podcast is a lot of work. But boy, do I enjoy it!
The best piece of advice I can give is: if you're going to go all-in on any kind of creative project, make sure you love it, or you won't want to keep coming back to it week after week.
I get genuinely excited for each new recording because I love meeting someone new, learning about hidden treasures, and sharing that information in a way that helps others.
At the end of the day, ask yourself how you can best help others. That's always going to get you where you need to be.
I hope this guide has helped you understand how to start a podcast from the road. Happy podcasting!
About the Author: Podcaster and Digital Nomad Cindy Scott
Cindy Scott is a Michigan native who has worked in the media industry, in many roles across America, for more than 15 years. These days, she produces the Locals Know Best Travel podcast and runs Cinders Media out of her 2019 Keystone Cougar Fifth Wheel with her husband and three furry pet friends. Follow the podcast on Instagram @localsknowbestpodcast and listen on your favorite podcast player.
This is the edited version of an article that originally appeared in the May/June 2021 issue of Rootless Living Magazine.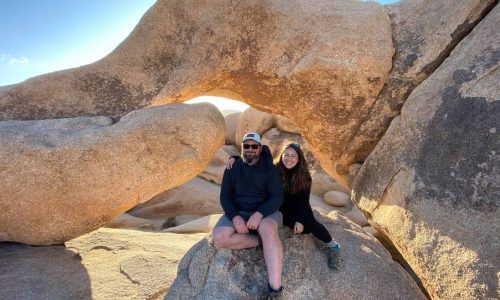 Subscribe to Rootless Living
Digital and print subscriptions available