Hello friends!! We are Jeremy and Heather Dirksen from @dirksens_camper_cuisine and Living The Tasteful Life!
Heather and I have been married for about 5 years and have two beautiful children – Kaleigh and Tristan. Tristan is off to college and Kaleigh, 13, stays with us part-time as she lives with her Mom in Oklahoma.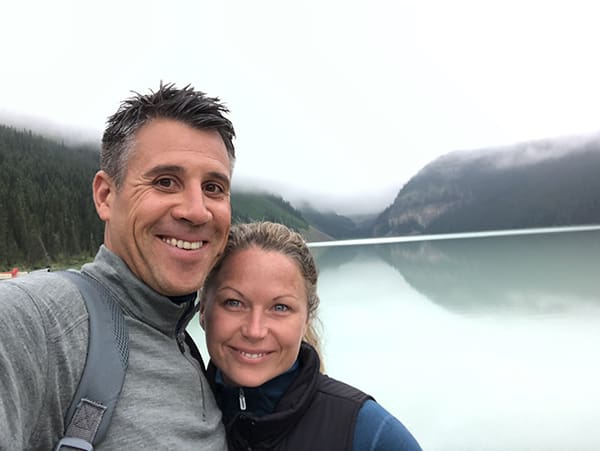 We travel with our house for work. My wife is the president of a tree service company who I also work for. Together we travel between the KS, OK, MO and TX branches and call OKC our home base.
Our adventure started when we got sick of staying in hotels while working out of town. While in Dallas we began part-time RVing and we quickly grew to love the minimalist lifestyle. In the Spring of 2018, we went full time in a 28 foot pull-behind – The Freedom Express! When the kids came to stay it became apparent that the 28 foot Freedom Express wasn't large enough so a year later we upgraded to our Solitude bunkhouse and we absolutely love it!
Cooking is in my blood – I come from a Mennonite family who was really focused on gathering and eating really good food. Growing up I have fond memories of my mother's egg sandwiches, they were my favorite breakfast along with a cold glass of chocolate milk. Needless to say an egg is the first thing I learned to cook so naturally I cooked up a lot of egg sandwiches.
My passion for cooking really didn't take off until I saw how much my family and friends enjoyed my skills in the kitchen. So, for the past few years I have become engrossed in all sorts of cooking – including some international dishes from Thailand and South Korea.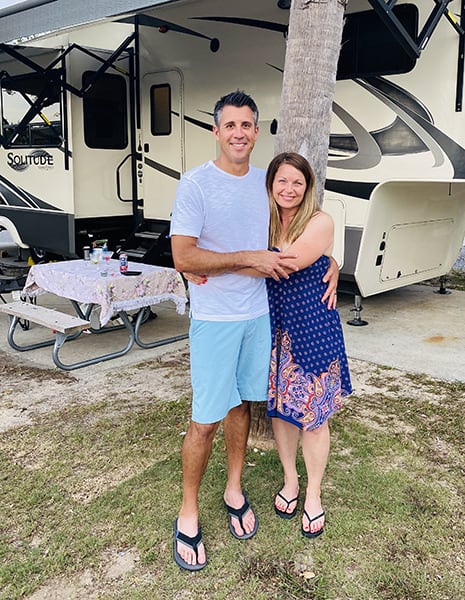 I love researching different recipes and coming up with my own interpretation that speaks to me. My wife happily provides the feedback I need to hone-in on making it our perfect dish. The fun thing about a recipe is the options are as endless as your imagination and the more you cook, the better your imagination becomes.
More recently, my wife convinced me to step out of my comfort zone and begin sharing my excitement and enthusiasm for cooking via YouTube. Thus @dirksens_camper_cuisine was born. Since then I have started writing down our recipes for our favorite dishes and cocktails with the hopes of publishing a small cookbook by the end of the year. You can find those recipes on our website at livingthetastefullife.com.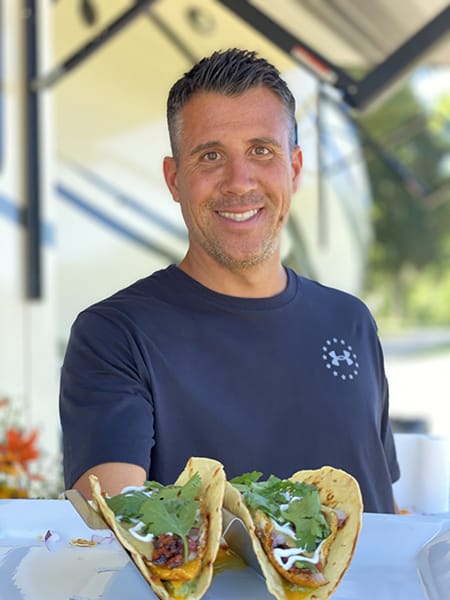 Currently Heather and I are visiting her parents at their farm near Saranac Michigan and we are excited to share one of our all favorite breakfast dishes and our own version of the Paloma cocktail – Fiesta Breakfast Tacos served up with an ice cold Minty Paloma. These tacos are absolutely mouthwatering and we look forward to having them every weekend at my wife's request.
We love to share our culinary adventures and experiences. If you'd like to join us in Living the Tasteful Life simply subscribe to our YouTube Channel, follow our Instagram Feed, and like our Facebook page. We look forward to connecting with you!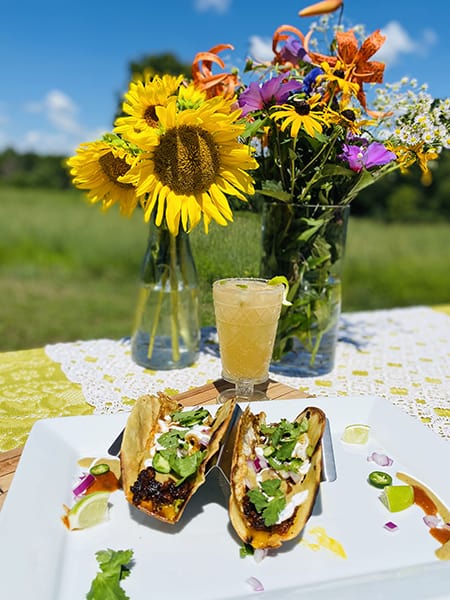 Dirksen's Camper Cuisine Fiesta Breakfast Tacos 
Makes 4 Tacos
Ingredients:
Extra Virgin Olive Oil
12 oz Soyrizo (6 oz will yield 4 tacos) We prefer El Burrito brand. It can be found at most Sprouts or Whole Foods.
4 Eggs
Fiesta Blend Seasoning (see recipe below)
4 Corn Tortillas
Guacamole
½ Diced Red Onion
1 Lime cut into wedges
Light Sour Cream
Original Roja Taco Sauce (Herdez Taqueria Street Sauce) Wal-Mart almost always has this
Garlic Hatch Creamy Hot Sauce (Blue Top Brand) Wal-Mart almost always has this
Cilantro for garnishing
1 Hot Pepper of your choice thinly sliced (we use Serrano Peppers or Thai Chilis if we have them)
Directions:
Start by dicing 1/2 red onion, thinly slicing hot peppers, cutting lime into wedges and plucking cilantro leaves from stems.

If you don't have fresh guacamole we like to use the small individual cups like Good Foods Chunky Guacamole.

Fry Soyrizo in Olive Oil over medium-high heat breaking it up and stirring until it starts to develop a nice crisp. Remove from pan and keep warm in oven. Soyrizo does not have the fattiness like chorizo, this is why you must fry in oil.

Next fry your eggs to your liking. To us what makes this taco so great is the sunnyside egg with the lovely yolk. Remove from pan and keep warm in oven.

Next heat olive oil in skillet (we use cast iron) over medium high heat and add corn tortilla. The goal is for a tortilla that has crunch so cook one side more than the other. This takes some learning because there is a fine line between a foldable taco with crunch and a tostado.  If it becomes a tostado that's okay, just keep it and throw some seasoning on it and break it into chips and use it to eat with whatever falls on your plate.

To Serve s

pread guacamole in tortilla, top with egg, break the yolk and spread it around then top with soyrizo, diced red onions, squeeze of lime, sour cream, taco sauce, garlic hatch sauce, diced peppers and cilantro. Enjoy the awesome crunch and amazing flavor profiles of this delightful breakfast.
Fiesta Blend Seasoning
2 tablespoons smoked paprika
2 tablespoons garlic powder
2 tablespoons onion powder
2 tablespoons cumin
2 tablespoon chili powder
1 tablespoon salt
1 tablespoon pepper
1 teaspoon Cayenne powder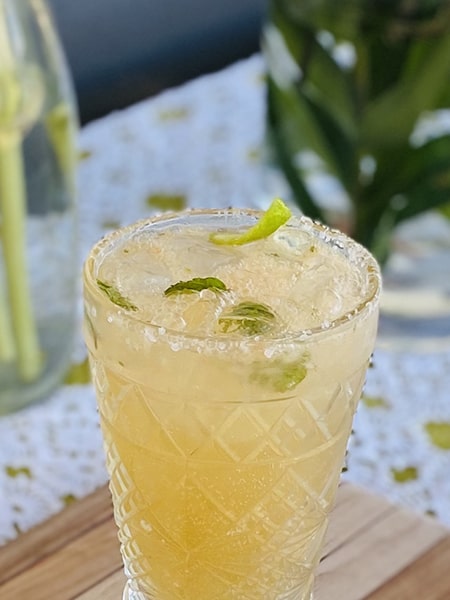 Dirksen's Camper Cuisine Minty Paloma
Makes 1 Paloma
Ingredients: 
2 oz Anejo tequila
1 oz lime juice
1 oz grapefruit juice
1/4 oz light agave nectar
3 mint leaves
Topo Chico or Pellegrino
Directions:
In a shaker combine tequila, lime juice, grapefruit juice, agave and 2 mint leaves. Add ice and shake vigorously until shaker is frosty cold.
With a Hawthorne strainer strain into lime salt rimmed glass and top with Topo Chico, Pelegrino or any sparkling water.
Smack remaining mint leaf in your palm to wake it up and release the oils and place on top of surface.
Using a citrus peeler make a grapefruit twist and hang on side of rim to garnish. Cheers!