Hi, I'm Jess from @realfoodcamping! Growing up, my family lived in many different states throughout the Midwest and no matter where we were, the opening of the local sweet corn stands was a staple of every summer. Usually full of tomatoes, cucumbers, and other summer veggies, the arrival of the first sweet corn at the farmer's market was highly anticipated.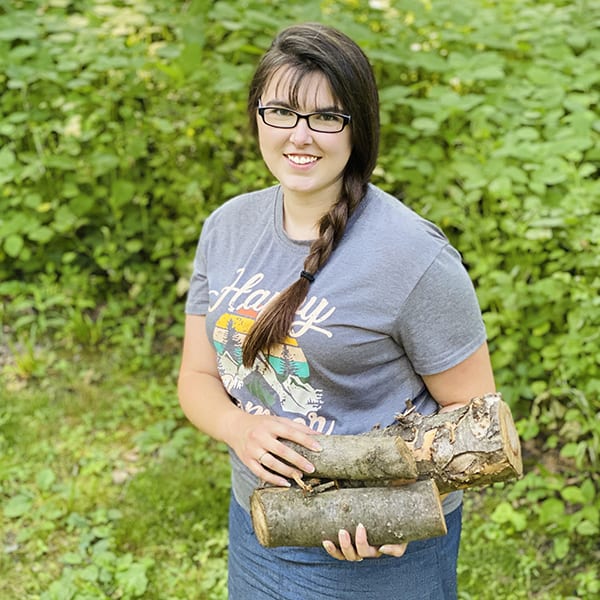 My Sweet Corn & Black Bean salsa is based on the wonderful sweetness of the corn combined with the cool refreshing hints of lime and cilantro. Although fabulous with chips, pairing the salsa with the Cilantro Lime Pork Tenderloin is a perfect combination and super easy to make while camping. 
I like to start with mixing up the pork marinade. I use a small manual food processor but if you don't have one, you can finely chop the marinade ingredients, the finer the better to spread out the flavor. Pour the marinade over the tenderloins in a resealable bag. I like to leave it in the refrigerator for 2 to 12 hours. The cilantro and lime are a match made in heaven and the pork really soaks up that flavor.  
Once the pork tenderloins are marinating in the fridge, I'll start working on the salsa. Grilling the sweet corn brings out so much sweetness and flavor. Honestly, although the recipe only calls for two ears, I usually cook more just for snacking. 
A quick fine chop of a jalapeno, half a red onion, and the cilantro and it's almost done. Drain and rinse the black beans, combine ingredients in a medium sized bowl, and squeeze the juice of two limes over everything with some salt. Mix together and it's ready to eat with some tortilla chips or chilled to serve with the pork.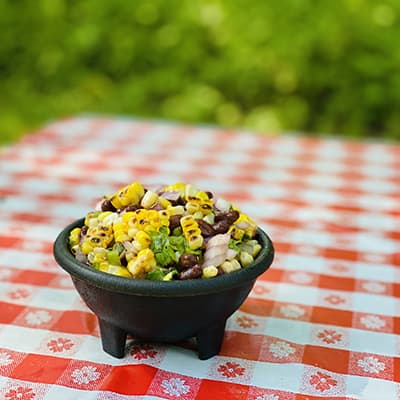 The pork tenderloin can be cooked over the fire or on a grill or griddle. Cook until the internal temperature reaches 160o F, turning occasionally to get an even, golden brown crust. When the pork reaches the proper temperature, remove from heat, cover, and let it rest for 5 minutes. Cooking time will vary depending on heat and size of tenderloins.
Slice the pork and serve with the corn and black bean salsa and enjoy your #SummerCookout!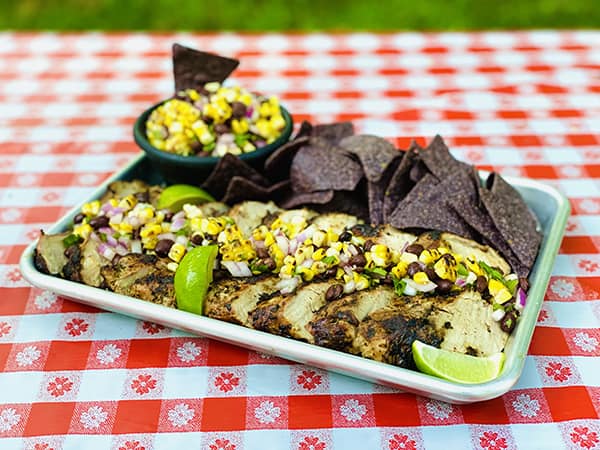 Corn & Black Bean Salsa:
Ingredients:
2 Ears of Sweet Corn, grilled
1 13 oz Can of Black Beans
½ Red Onion
1 Jalapeno
1/3 C Cilantro Leaves, packed
Juice from 2 Limes
1 t Salt
Directions:
Grill 2 ears of sweet corn, cool, and then cut off the cob.

Drain water from black beans and rinse.

Finely chop the red onion, jalapeno and cilantro.

Put all ingredients including lime juice & salt into a medium sized bowl and mix until combined.

Chill until ready to serve.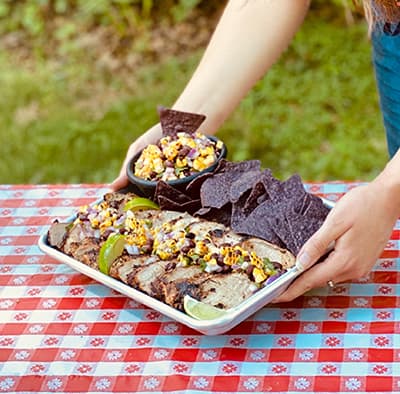 Cilantro Lime Pork Tenderloins:
Ingredients:
1 Package of Pork Tenderloins (2 loins)
¼ C Avocado Oil
½ C Cilantro Leaves, packed
1 Jalapeno
Juice from 1 Lime
1 t Salt
Directions:
In a small food processor, blend avocado oil, cilantro, jalapeno, lime juice, and salt together. If you don't have a food processor, finely chop the cilantro and jalapeno and mix the ingredients together.

Place 2 pork tenderloins into a zippered food storage bag and pour marinade over the top of them. Marinade pork tenderloins for 2-12 hours.

Grill pork tenderloins over the fire or on a grill or griddle. Cook until the tenderloins reach an internal temperature of 160o F.

When tenderloins reach the proper temperature, remove from heat and cover. Let tenderloins rest for 5 minutes.

Slice & Serve!
I'm Jess from Real Food Camping and although I am primarily a weekend camper at this point, my goal is to be full time RVing and working remotely in the near future. I love the camping life, there is no where I would rather be than traveling to new areas and exploring the sites. Real Food Camping was born from my passion for creating great tasting, mostly healthy recipes that were easy to make while camping.  You'll see me cooking over a campfire, a grill or griddle, and even inside the RV with the stove and oven. I try to use the freshest, simplest ingredients I can find depending on where I am. 
You Can Find Me on Facebook, Instagram, and Pinterest @realfoodcamping and on my website realfoodcamping.com